2017-2018: Rosilyn Sanders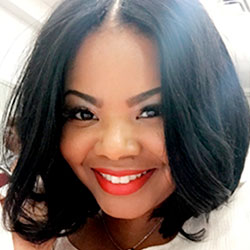 Rosilyn Sanders
2017-2018: Underserved Scholarship Awardee
Leadership Psychology PsyD
Favorite Quote
"So we grew together, like to a double cherry, seeming parted, but yet a union in partition, two lovely berries molded on one stem." — William Shakespeare
Rosilyn received her Bachelor of Arts degree from Philander Smith College in Little Rock, Arkansas and her Master of Arts degree in Counseling with an emphasis in Rehabilitation and Disability from the University of Arkansas at Little Rock. Rosilyn is currently enrolled in the Organizational Leadership Psychology (OLP) Program at WJC.
In addition to being a CMGMH Fellow, she plans to serve as a representative for the OLP Program and bring awareness to individuals with disabilities globally. Rosilyn has a nine-year professional background in program development for non-profit agencies representing people with disabilities and low-income families. In 2012, Rosilyn created and spearheaded a vocational program for low-income residents to receive a certified nursing assistant license by collaborating with a local medical staffing agency.
Rosilyn plans to seek practicum and internship opportunities in the field of OLP that will provide more hands-on experience to carve the career of her choice. Her long-term goals are to become one of the few, if not the first, African-American woman Organizational Leadership consulting psychologist from Arkansas; and continue to advocate for people with disabilities to help them become employable in their community.
As a single mother and a caretaker of her mother who is experiencing renal failure, receiving the scholarship will provide invaluable financial assistance for Rosilyn to pursue her dream. Rosilyn stated,
"Being an award recipient shows me that William James College supports my passion and advocacy for people with disabilities as well as understands the needs of those who come from single-parent, low-income families. I did not grow up in the modern two-parent household; therefore, I am the product of an underserved community. I am so grateful to represent Arkansas in such a positive capacity. Because WJC believes in me and chose me out of several applicants, it fuels my desire to believe in myself and I know that the best is yet to come."