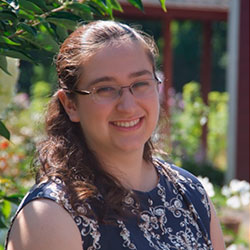 Sarah Aronson
2020-2021: Underserved Scholarship Awardee
School Psychology MA/CAGS
Favorite Quote
"The best and most beautiful things in the world cannot be seen or even touched – they must be felt with the heart." — Helen Keller
Sarah Aronson was born and raised in Northfield, MA. She has been figure skating for over 20 years. Her Jewish faith and her family's multi-generational dedication to service through the Girl Scouts set a foundation for her desire to support children and families. Participation in the Girl Scouts led Sarah to find two of her passions—working with children with disabilities and learning Spanish to work with Spanish speaking children in her community. The former inspired her Girl Scout Gold Award project working with the United States Figure Skating to promote the creation of Special Olympics Basic Skills programs in order to increase accessibility. The latter led to her study of Spanish throughout high school and college, including studying abroad in Buenos Aires, Argentina. Sarah received her Bachelor of Arts in Education & Child Study and Spanish as well as a Master of Education of the Deaf from Smith College. Since completing her studies at Smith, Sarah has worked for Clarke Schools for Hearing and Speech as a Teacher of the Deaf.
In this role, Sarah works with students with hearing loss either in Clarke's school-based program or out in school districts across Eastern and Central Massachusetts. In addition to teaching, Sarah co-presented at the Alexander Graham Bell Convention on how to support students with hearing loss in building their selfadvocacy and social relationships with their peers. For four years, Sarah served as the Buddies Coordinator for Clarke's Boston campus where she organized and led events for the students to come together to build community through friendships and mentorships. In her graduate studies, Sarah's focus is on supporting the mental health needs of students with hearing loss, Latino students, and students who exist at this intersection. There are few School Psychologists trained in the unique needs of students with hearing loss and their families. Sarah wants to take what she learns in her graduate studies in School Psychology and the Latino Mental Health Program to be a resource for these families and other professionals in the field of deaf education.
Sarah's proudest accomplishment is her input into the growth and expansion of the Clarke Buddies program at the Boston campus. She wrote:
"When I began coordinating the program, there were three meet-ups a year held at our preschool. All of the participants were ages 6-18 and it became increasingly apparent from observation and participant feedback that our space wasn't the most suited to the program. Over the four years I coordinated the program, I fought to get funding for at least one meet-up off campus, and this past year we piloted a version of the program where there were six meet-ups across Metrowest and South Shore to increase accessibility and interest in meet-ups. We also tentatively planned on some after-school North Shore meet-ups with an interested school district. Though our pilot was cut short by COVID-19, I know that Buddies now has the foundation to reach and engage more students and I am excited to volunteer and help continue to support its growth."
During her graduate studies at WJC, Sarah intends to continue her involvement with the Clarke Buddies Program, serve on Temple Beth Elohim's Mental Health Initiative to increase mental health support within the community, and join the Social Justice Student Coalition to work with and learn from other WJC students about advocating for social justice from a mental health lens in the communities that we serve.
Sarah hopes to work as a school psychologist, supporting students with hearing loss both directly within schools and as a consultant to schools within the state. She plans to focus on working with programs in the state that offer comprehensive testing evaluations designed specifically for students with hearing loss in order to help schools create an Individualized Education Program that best supports these students. Long-term, Sarah aims to promote the study and research of the unique mental health needs of students with hearing loss. She wrote:
"I especially would like to focus on families of children with hearing loss who have recently immigrated to the United States. There is some research in language development for bilingual students with hearing loss, but more needs to be done in increasing awareness of how to best support these children and their families."