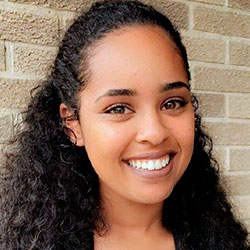 Yohana Beraki
2020-2021: Underserved Scholarship Awardee
Clinical Psychology PsyD
Favorite Quote
"Try to be a rainbow in someone else's cloud." — Maya Angelou
Yohana Beraki is a first-generation Eritrean American who was raised in a culturally rich home in the suburbs of Indianapolis, IN. After earning her bachelor's degree in Psychological Sciences from Purdue University, she moved to Boston to begin her master's degree at Boston University, specializing in children and adolescents. She interned at the Child Witness to Violence Project at Boston Medical Center (BMC), providing Child-Parent Psychotherapy, Trauma-Focused Cognitive Behavior Therapy and other evidence-based treatments to children and families who had been exposed to violence. She also volunteered at The SPARK Center, another BMC program, aiding in the administration of cognitive assessments.
For the past two years, Yohana has worked at Judge Baker Children's Center, working closely with Camp Baker, a Summer Treatment Program for children with ADHD and other comorbid disorders. She worked alongside the director to rebrand, relocate and grow the program as well as train and supervise staff, utilize behavior management strategies and oversee daily operations. In her second year of her master's program, Yohana was awarded the Services for Transitional Age Youth (STAY) Fellowship under the American Psychological Association for her dedication to adolescents and young adults of diverse racial and ethnic backgrounds.
Being raised in an Eritrean family has defined how Yohana moves through the world. She is the first in her family to have been born in the United States and the first to complete a bachelor's degree. Eritrea, a small country in East Africa, was first colonized by Italy and then Ethiopia. It gained its independence in 1991. She was named Yohana, which translates to "victory" or "congratulations". Understanding the sacrifices associated with migrating to the U.S., and coming from an under-resourced and underserved community, inspires Yohana every day to make this opportunity count.
Her research interests include providing high-quality mental health care to underserved communities and creating adaptations to existing evidence-based practices in order to provide culturally sensitive, inclusive treatment. Her master's thesis focused on Culturally Adapted Cognitive Behavioral Therapy, with the aim of providing accessible platforms for culturally diverse families to access this treatment.
During her tenure at WJC, Yohana plans to secure a wide range of clinical training opportunities through practicum placements. With regards to her long-term professional goals, Yohana hopes to become a well-rounded, culturally humble practitioner. She would like to be a catalyst for beginning conversations surrounding mental health in immigrant communities, as there are many mental health concerns particularly related to these communities' experiences in the U.S. that go unaddressed due to the stigma associated with mental health and therapy. Yohana aims to eventually open a private practice to be able to address these disparities in unserved and underserved communities.