Community Health Workers (CHW) Training Program
Pre-Bachelor's Training Program
You've earned your high school diploma or GED, now launch your Behavioral Health career.
Make a difference in the lives of children, adolescents, and families in unserved and underserved communities—and receive the support you need to start your career. The Community Health Workers (CHW) Training Program is for students who have not yet completed a bachelor's degree. Participants join a group of peers that will advance through the program, together, each working in a one-year full-time paid work experience at a partnering behavioral health agency while training. Students receive a salary, education, mentorship, professional development opportunities, career counseling, and a $5,000 stipend for living expenses.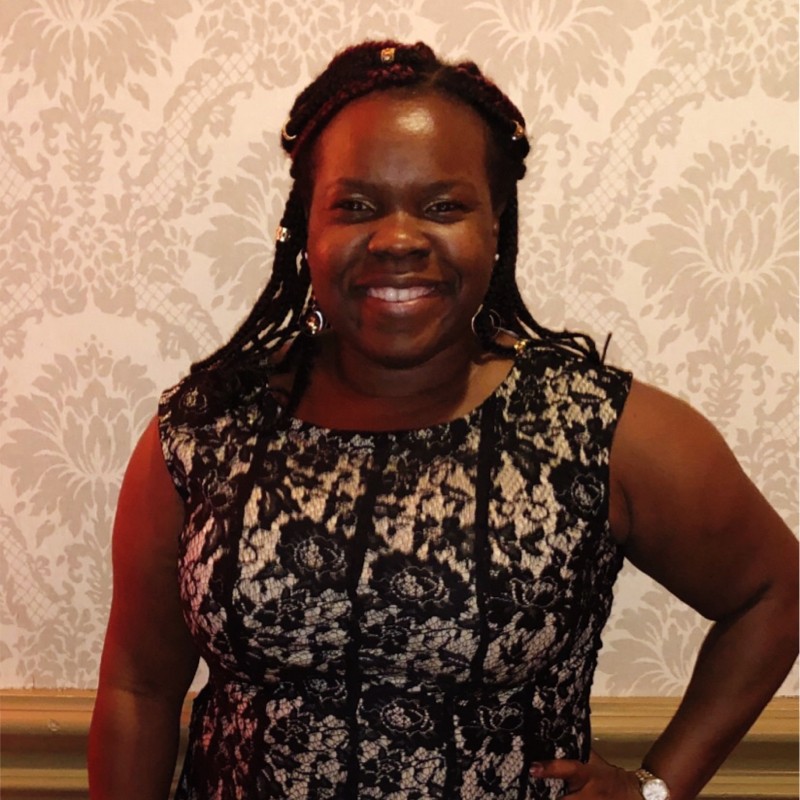 Meet the CHW Program Director
Gina Dessources Benjamin, LICSW, MSW
I am delighted that you have chosen to explore our program as a step in your career path. Please read on to learn more. I encourage you to use the "Apply Now" link to submit your application, or use the "Email Us" link to reach out. I look forward to supporting you along this journey.
"When I was asked to take part in the Community Health Workers (CHW) training program at William James College, I figured the interview process wouldn't hurt. But at that point in my career, I wasn't really sure I wanted to join the program. However, during the interview we spoke in depth about who I was and where I wanted to be. You have to remember I'd been in this field for 20 plus years and was feeling a little burnt out. During that half hour interview, it all became so clear to me and I left the interview so jazzed about my future.... For me, support from family and friends as well as CHW classmates, faculty, and staff has inspired me to consider new career options."

Luke Courtemanche (CHW Class of 2022 Graduate)
Frequently Asked Questions
The CHW Program welcomes all pre-bachelor's level participants. It is designed for the following individuals:
Those who are currently employed as paraprofessionals and are interested in being certified as Community Health Workers.
Individuals who have no experience as paraprofessionals but are seeking career ladder opportunities in behavioral health with a focus on children, adolescents, and transitional-aged youth.
Those who are interested in completing a year of training in integrated, team-based, behavioral health and primary care settings in unserved and underserved communities.
Yes, additional eligibility criteria are as follows:
Applicants must be 18 years of age or older.
Applicants need to have a high school diploma or GED, or an associate's degree, or be currently enrolled in college but have not completed their bachelor's degree.
Applicants must be legally authorized to work in the U.S. and need to pass a Criminal Offender Record Information (CORI) check.
Completed application materials will be reviewed by the William James College staff.
Eligible candidates will be invited for an initial interview with the program staff.
The interview may be conducted in person or via Zoom.
Qualified applicants will be recommended for a 2nd interview with their chosen field site/employer.
During the application process, candidates will be asked to rank order their preferred field worksites. They will have the option of interviewing at up to three (3) agencies from the list of approved partners.
Once all interviews are conducted, candidates will be informed via email of a final decision regarding the status of their application.
Program participants will be selected based on the following:
Demonstrated commitment to serve as Community Health Workers or paraprofessionals and motivation to work with children, adolescents, and transitional-aged youth with behavioral health challenges
High levels of cultural awareness and responsiveness
Underrepresentation in the behavioral health field (e.g., first-generation, low-income, etc.)
Relevant language proficiency
Strong interest in pursuing career ladder opportunities in the behavioral health field
The year-long work placement will be with a partnering behavioral health agency that works with unserved and underserved communities. Partnering agencies include:
A focus of this work will be on increasing knowledge and understanding of the specific concerns of children, adolescents, and transitional-aged youth in high need and high demand areas at risk for behavioral health disorders.
Participants should expect to:
Complete a year-long field work experience as a full-time worker at an approved agency that serves children, adolescents, and transitional-aged youth in high need and high demand areas.
Provide team-based care as paraprofessionals in integrated behavioral health and primary care settings located in underserved communities.
Participate in a Certificate Training Program for Community Health Workers co-led by Justice Resource Institute, and attend other professional development workshops.
Earn 6 General Elective college credits (offered for free upon completion of this program).
Meet all employer partners' expectations and job requirements.
Adhere to employers' policies and procedures for professional conduct and ethical behavior.
Comply with all agency partners' COVID-19 vaccination policies and protocols.
Actively engage in program evaluation activities that are required by HRSA (i.e., complete surveys and other data collection measures in a timely manner).
Obtain a National Provider Identifier (NPI) number for data tracking purposes.
Maintain ongoing communication with the CHW Program staff.
Perform other tasks, as required by the CHW Program staff.
Apply Online
Applications Currently Closed
Application Deadline
The application for the Fall 2024 training program will be open in January 2024.
Interviews
By appointment
Required Application Materials
Learn More and Contact Us
Have Questions?
Email us
This program is housed in the Center for Workforce Development. The Center's mission is to build and sustain a diverse and culturally competent workforce equipped with the knowledge, skills, and expertise to increase access to high quality mental health care for all.
Already have a Bachelor's Degree?
If you have a bachelor's degree and are interested in this work, we invite you to instead explore our Behavioral Health Service Corps℠.
Learn more here