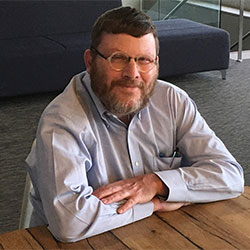 Matt Kramer, MLS
Research and Writing Specialist, Academic Resource Center
Matt Kramer focuses on supporting student research and writing needs building on his ten year stint as a librarian. He joined William James College in 2005 when the library also providing writing assistance to students. Matt helps students discover the information they need and find the best way to express their written analysis of their research. In addition Matt also administers the processing of the doctoral projects produced by the doctoral programs.
Matt has always been interested in writing and research. Prior to joining William James College he worked in the medical and patient libraries at Brigham and Womens Hospital. Before becoming a librarian, Matt worked in the technology field as a journalist at Ziff Davis Publishing where he was one of the founding staff members of PC Week (now eWeek) where he served as a technical reviewer and columnist. Later he worked as a technical writer with EMC Corporation (now Dell Technologies). He has been an active member of the Academic and Research Libraries section of the American Library Association.
Away from campus, Matt enjoys movies, reading and exploring cities and towns with his family. Matt earned his BA from Clark University and a Masters In Library Science from the University of Rhode Island.