Director's Welcome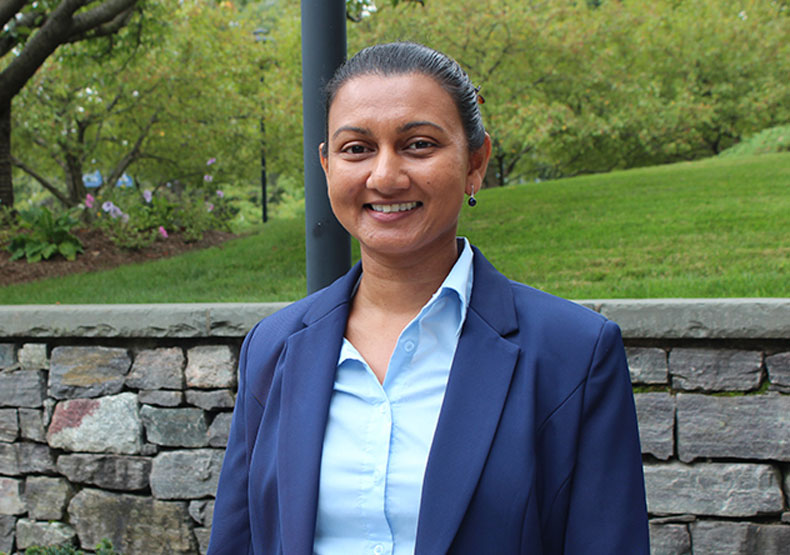 Welcome to the WJC Office of Inclusive Excellence. It is an honor and privilege for me to serve in a position responsible for providing vision, leadership, and management in an Inclusive Excellence framework that provides strategic direction for current and future diversity, equity, inclusion, belonging, and social justice initiatives.
The framework for inclusive excellence involves three major areas of work which include developing equitable and innovative curricula, establishing and supporting diverse recruiting, hiring, and retaining practices, and sustaining an inclusive campus climate and community.
We believe that through broad, knowledgeable, and humble collaboration, we can learn from each other and build on each other's strengths to achieve shared results.
We recognize that to truly be inclusive we must draw attention to the depth and breadth of the diversity represented at William James College. Acknowledging both the recognition and appreciation of diversity, our definition includes age, culture, different ideas and perspectives, disability, ethnicity, first generation status, familial status, gender identity and expression, geographic background, marital status, national origin, race, religious, political, and spiritual beliefs, sex, sexual orientation, socioeconomic status, and veteran status. We also recognize that the historical exclusion and marginalization of specific social groups must be addressed to promote equity.
We live in a time when higher education is changing dramatically. These changes include the demographics of the student population, the role of technology in instruction, the need to assure physical and psychological safety of students, staff, and faculty, and the rethinking of the financing of Higher Education. We also face significant and appropriate pressures to assess the impact of our curricula more effectively, and to demonstrate the value of our educational and student life experiences that promote a sense of belonging. These changes pose significant challenges for the leadership of a college. At the same time, though, they provide significant opportunities for prepared and skillful leaders to understand these challenges and to act in a way that is responsive to emerging needs of the multiple constituencies in and served by Higher Education.
Please allow our website to serve as a resource for you to learn about our inclusive excellence framework, participate in a training or workshop and find ways to engage collaboratively with our community. Our dedicated staff are here to answer any questions that you might have.
We warmly invite you to join us as we strive toward inclusive excellence and the support of a community where we may all belong.
Respectfully,
Gloria Noronha (she/her/hers)
Senior Diversity Officer
---
Office of Inclusive Excellence
The Office of Inclusive Excellence (OIE) provides college-wide leadership and accountability in developing a diverse, equitable, and inclusive working and learning environments. In collaboration with campus and community partners, OIE is an institutional resource that supports the College's mission and strategic plan of Inclusive Excellence.
Framework
The Inclusive Excellence framework infuses diversity, equity, inclusion, and belonging, at the strategic, tactical, and operational levels. This involves a critical examination and ongoing holistic review of all out of the systems, policies, curriculum and pedagogy practices, staff and faculty development opportunities, student engagement, and communications.
---
Communications from the Office
Dear William James College Community,
William James College will observe the Juneteenth federal holiday on Monday June 20th. This day off is an opportunity for the WJC community to re-examine our histories and the diversity of the lived experiences that we all bring.
The acknowledgment of Juneteenth as a National Holiday is in recognition of the history of Black Americans that celebrates freedom from the system of slavery. This holiday is an opportunity to shine a light on the achievements of Black historical legacies and the many ways Black folks have contributed to freedoms we all enjoy.
While the recognition of the day is a move toward national awareness of an untold history, the roots of that history still run deep in various systems of oppression. Our work is to unpack, deconstruct, and reconstruct these histories and co-create the abilities to share our healing and leadership talents with the communities that need us the most.
For example, this semester core faculty in our Organizational Leadership Psychology department committed to the work of racial healing through an 8-week intensive course that explored racial identity, relearning our histories, and reframing allyship as an active process with a growth mindset. They represent the fourth faculty and staff cohort to have participated in this course during the past three years. This dedication to ongoing improvement acknowledges our continued work in actions beyond words.
Juneteenth for me is an opportunity to explore what stories from my own intersecting identities continue to be silenced and oppressed and enhance the ways I can use my privilege to uncover and re-examine the stories of freedom that have yet to be told from so many marginalized groups that continue to face active hate and oppression.
In celebration of Juneteenth, I invite you to join me in reflecting on this question:
How is Juneteenth part of my history?
HAPPY JUNETEENTH
Gloria Noronha (she/her/hers)
Director, Office of Inclusive Excellence
Dear William James College Community,
The month of June is an opportunity to educate, raise awareness, and celebrate our LGBTQIA (Lesbian, Gay, Bisexual, Transgender, Intersex, Queer and/or Questioning, and Asexual and/or Ally) community. Pride began as a demonstration of visibility and as a movement against groups that try to erase and oppress LGBTQIA people. After years of progress in public attitudes toward LGBTQIA people there is still a lot of work to be done. Unfortunately, approximately 300 anti-LGBTQ+ bills have been introduced in state legislatures this year. Our work as healers in ongoing, and learning our histories is a first step.
Lesbian, Gay, Bisexual, Transgender and Queer (LGBTQ)/Pride Month is currently celebrated each year in the month of June to honor the 1969 Stonewall Uprising in Manhattan. The Stonewall Uprising was a tipping point for the Gay Liberation Movement in the United States. In the United States the last Sunday in June was initially celebrated as "Gay Pride Day," but the actual day was flexible. In major cities across the nation the "day" soon grew to encompass a month-long series of events. Today, celebrations include pride parades, picnics, parties, workshops, symposia and concerts, and LGBTQ/Pride Month events attract millions of participants around the world. Memorials are held during this month for those members of the community who have been lost to hate crimes or HIV/AIDS. The purpose of the commemorative month is to recognize the impact that lesbian, gay, bisexual and transgender individuals have had on history locally, nationally, and internationally.
This month, our WJC What's Up Monday newsletter will feature LGBTQ Psychologists/Counselors/Behavioral Health specialists during each week of the month.
Here at WJC we embrace LGBTQIA people. May LGBTQIA people be seen and fully supported in our classrooms, workspaces, and throughout all of our campus activities. We have two actively run engagement groups:
Please reach out if you would like to get involved with LGBTQIA efforts at WJC.
Gloria Noronha (she/her/hers)
Director, Office of Inclusive Excellence
Dear William James College Community,
Late last evening, a violent racist hate crime targeting Black lives occurred at a supermarket in Buffalo, NY. The innocent Black lives targeted in this premeditated and dehumanizing act of racial violence leave us reeling, once again, as we process emotions of pain, anger, grief, and heartbreak.
In the wake of this event, we continue to stand with our WJC Black community members. To those of us with families, friends, and connections to Buffalo, and to all who are feeling pain and sadness this morning, our community of healers extends compassion, outreach, and support. Please reach out to friends and loved ones and check in with them.
Faculty and Staff, please create the reflection space needed in your learning and working environments this week to hold our community together during this horribly painful event.
The Office of Inclusive Excellence in collaboration with the Dean of Students Office will hold open hours, with light food and beverage offerings, in the Atrium on Monday, Tuesday, and Wednesday this week from 12pm-1pm each day for any member of our community seeking a supportive environment and a place to gather.
Yours in Service,
Gloria Noronha (she/her/hers)
Director, Office of Inclusive Excellence
Dear William James College Community,
As we enter a longer weekend and the beginning of an academic calendar break, I invite our community to take and make time for inclusive reflection and self-care. Many in our community are still observing Ramadan, and some will be observing Good Friday and Passover. Some will be celebrating Easter this weekend or next, and Eid al-Fitr the week after next.
These are holy days and periods of time that make space for this intentional reflection. They celebrate resilience, justice, triumph, togetherness, and belonging. These reflective moments invite meditation on sacrifice and the sanctity of our human life, and for those who might not observe these days, we are reminded that there are those in our community with a variety of diversity and difference who also desire a common need to belong.
I hope we may use this reflective time to continue to care for each other, our families, and/or loved ones. Consider inviting a friend to lunch, check in on a new employee, enjoy a spring walk with a colleague, or detach and reflect in solitude or in solidarity.
Let our care for each other be the reason we all feel a sense of belonging.
I join you in inclusive reflection,
Gloria Noronha (she/her/hers)
Director, Office of Inclusive Excellence
Dear William James College Community,
Today, Thursday, March 31, 2022, will mark the 13th annual International Transgender Day of Visibility, also known as Trans Day of Visibility (TDoV). Activist Rachel Crandall created the day in 2009 to honor the achievements, resilience, and perseverance of individuals who identify as transgender. The other day more commonly known in diversity calendars is the Trans Day of Remembrance (TDoR), a day of remembering those lost to anti-transgender violence.
During TDoV, we make time to acknowledge and celebrate all members of the transgender community. It is a day of pride and celebration for gender-diverse identities, achievements, and community.
It is also important to acknowledge that while we hold space to celebrate our trans and gender diverse community members, we must remind our community of the ongoing struggle that the trans community continues to face. Since January 1, 2022, there have been a total of 196 active anti-trans bills introduced across the country, in 38 different states. These bills against trans people and communities have a central claim that trans people don't belong.
Here at WJC we embrace diversity, equity, and inclusion, but more importantly, these three pillars equal a culture of belonging. All expressions and identities are welcome here. As change leaders, clinicians, and healers, we strive to demonstrate these practices in our classrooms, workplaces, and through our campus activities.
Together with our Staff and Faculty Rainbow Network and our student group, the Rainbow Alliance, we would like to recognize all our trans and gender diverse community members and celebrate the day by sharing these educational resources. We invite you to watch the video below and use the website links as resources in your classrooms and workspaces.
Happy TDoV!
Support
Learn
Gloria Noronha (she/her/hers)
Director, Office of Inclusive Excellence
Dear William James College Community,
The Office of Inclusive Excellence would like to wish all those celebrating, a Happy Nowruz! Nowruz, also known as the Persian New Year is celebrated in many countries including Iran, Iraq, India, Afghanistan and parts of Central Asia. Nowruz—which means "new day" is a celebration of springtime and has been celebrated for over 3,000 years.
As with many springtime and new year celebrations, those who celebrate Nowruz might prepare a Haft-Sin table. This symbolic table includes a special cloth called a Sofreh which displays seven traditional items, including wheat, lentils or barley, flowers, dried fruit, garlic, apples, and vinegar. Each item is a symbol of spring and renewal and part of Nowruz celebrations. The table is then shared with family and friends during the holiday.
Other symbols include a live goldfish which symbolizes new life, eggs for fertility, coins for prosperity, and a mirror for reflection.
Following Nowruz, friends and families are invited to have meals and gatherings outside to celebrate Spring.
As we continue to return to our communities in ways that we are comfortable with and in the spirit of Spring, we invite our community to invite a friend/colleague/peer for an outdoor walk or a walking meeting.
As we continue to face many dark and challenging times locally, nationally, and globally, let us use this as reminder to our community that our greatest strength is our togetherness.
Let the coming of Spring bring hope and renewed togetherness.
Happy Nowruz!
Gloria Noronha (she/her/hers)
Director, Office of Inclusive Excellence
Dear William James College Community,
In light of recent antisemitic and racist hate crimes at Curry College, we are asking our community who live in the Milton community to please be advised, take caution, and help be supportive of the active police investigation unfolding on Curry's campus and in the town of Milton. Police are investigating multiple cases of vandalism and graffiti, including anti-Semitic language and swastikas, found on the campus of Curry College in Milton, Mass., starting late last week, The Boston Globe reported.
Curry College is a member of our Association of Independent Colleges and Universities in Massachusetts (AICUM) led by our President Covino who chairs the association. "When these acts of hatred are inflicted upon students especially at institutions of higher learning and at a neighboring college community I am left with a heavy heart, stunned, and horrified" said President Covino. In a plea to all AICUM DEI officers, Ms. Jeanette Buntin, Assistant Vice President of Student Engagement and Diversity, asked for thoughts and prayers as they "uncover this terrorist and their hateful actions".
Our support extends to the Black and Jewish Curry College student body, their President, and community as they strive to shield their community from this hatred.
Youth of today are growing up in an increasingly complex world—one where acts of terrorism fuel our daily news outlets. The continued violence against Black and Jewish Americans this past fall and most recently at Historically Black Colleges and Universities and at Curry College speak to a much-needed anti-racist SEL (socio-emotional learning) pedagogy. Dr. Nadja Lopez Reilly, clinical psychologist specializing in children and families and faculty at William James College, states that "SEL teaches us the self-awareness skills needed foster courageous dialogue across difference giving us the capacity to confront injustice, hate, and inequity". In learning the tenets of an anti-racist SEL pedagogy, we can begin to address the power and privilege, as well as racism, homophobia, sexism, and other forms of violence, so we can imagine the change within ourselves toward a more equitable future.
Our learning across difference is our most powerful shield against this and all forms of hatred and with this we stand with our collegiate colleagues as we keep their safety in our hearts and minds.
Gloria Noronha (she/her/hers)
Director, Office of Inclusive Excellence
Dear William James College Community,
The Office of Diversity, Equity, and Inclusion and the Staff and Faculty Asian Pacific Islander Desi American (APIDA) Network would like to send our best wishes to all those celebrating the Lunar New Year.
In 2022, the Lunar New Year celebrations will begin on February 1 and will last until February 15, 2022, sometimes culminating with a lantern festival tradition marking the end of the Lunar New Year festivities. 2022 is the Year of the Tiger which symbolizes recovery and growth. Also known as the Spring Festival it is celebrated in many East Asian countries such as China, Vietnam, Japan, Malaysia, Singapore, Indonesia, South Korea, and Tibet. In the United States the Lunar New Year is observed by most Asian American and Pacific Islander (AAPI) communities.
As with many Spring rituals, the Lunar New Year reminds us to pause and reflect on the achievements of the past year and celebrate the arrivals of new comings. There are many WJC moments to celebrate, and a thread through all those moments is the resiliency and creativity of our community to be able to toggle back and forth as we have had to accommodate the hardship and struggles of COVID 19 and it's variants. As a community of healers, we remain committed to this work as is evident from our increased efforts to develop our behavioral health workforce. As we look forward to the year ahead, we continue to welcome new staff, faculty, and students to our growing community, and as the days get warmer and safer we hope to move back to more in person activities to have those opportunities to share our celebrations and triumphs.
Some traditions observed in preparation for the Lunar new year involve a thorough cleaning of the home to rid it of "huiqi", or inauspicious breaths, preparation of any of the seven lucky foods: fish, dumplings, spring rolls, sweet rice balls, good fortune fruits, glutinous rice cake, and longevity noodles, the sharing of Hong bao or red envelopes filled with money, wearing red (as it is considered lucky and symbolizes happiness, vitality, and long life), and sharing an elaborate meal with family and friends.
Common greetings to wish those who celebrate are as follows:
Chinese: (Gōng xǐ fā cái) = "Happiness and Prosperity"
Vietnamese: Chúc Mừng Năm Mới (chook-moong-numb-moi) = "Happy New Year"
Korean: (sae hae bok manhi bah doo seh yo) = "Happy New Year"
We wish you all a blessed and prosperous year ahead
HAPPY LUNAR NEW YEAR
Gloria Noronha (she/her/hers)
Director, Office of Inclusive Excellence
Dear William James Community,
The Staff and Faculty Asian Pacific Islander Desi American (APIDA) Network/Affinity group would like to wish everyone a Happy Diwali!
Diwali, also known as Deepavali, is the Hindu festival of lights. It symbolizes the victory of good over evil, light over darkness, and happiness over sorrow, and is celebrated all around the globe by different communities. Diwali is a significant holiday for Hindus, and a joyful celebration that brings a lot of excitement and prosperity.
Among the symbols and expressions you may see connected to Diwali is rangoli, a form of folk art created using a mix of materials like sand, flower petals, flour, lentils, and beans to form colorful patterns. Each state of India has its own form of rangoli, and these art forms are called by different names, but they all have a similar purpose: to bring good luck and prosperity.
With the darkness still so present in these uncertain times, with of COVID and continuing racial unrest within our AAPI communities still so prevalent, we hope that festivals like Diwali serve as a reminder of the light and grace within us, and of the ways we can extend this light to others – and, just like a rangoli pattern, let us celebrate the beauty and impact we can have when we bring our unique elements together to form one design.
May millions of lamps illuminate your life with joy, prosperity, health and wealth forever. Merge yourself in this light and enjoy the festival of lights.
Happy Diwali 2021!
Staff and Faculty Asian Pacific Islander Desi American (APIDA)
Dear William James College Community,
The Jewish High Holiday period, including Rosh Hashanah and Yom Kippur (this year observed from sundown Monday evening September 6th through sunset on Thursday, September 16th), is considered a time for reflection and renewal. It is a time of moral self-assessment, realignment, and recalibration. This message is informed by 18doors.org.
Rosh Hashanah is the first of the High Holy Days that marks a new Jewish calendar year. This time of celebration is observed for two days in most Jewish communities. The mood is a mix of reflection on the year that has just ended, gratitude, and hope. Wishes for a good new year, "Shana Tova," are expressed.
The Day of Atonement (Yom Kippur), the holiest day of the Jewish calendar, is observed ten days after Rosh Hashana. Most Jewish people, regardless of personal religious beliefs, observe Yom Kippur in some way. In preparation for this day, the Jewish tradition encourages seeking forgiveness (atoning) for mistakes, intentional or unintentional misdeeds, and working toward forgiving others. It is a time for reflection, making amends, and committing to do better in the future. Many Jewish people fast, take the day off work, pray, and attend synagogue services. After Yom Kippur ends with the sound that resonates from the shofar (a ritual and traditional musical instrument), there are many festive activities including a "break-the-fast" meal shared with family and/or friends.
Many of our Jewish students, faculty, and staff will be observing these holidays and may be away from classes, work, and other professional or academic activities, including responding to email, during Rosh Hashana (which begins at sunset on Monday, September 6, 2021 and ends at nightfall of Wednesday, September 8, 2021) and Yom Kippur (which begins at sunset on Wednesday, September 15, 2021 and ends at nightfall on Thursday, September 16, 2021). Students who will miss classes or assignments during these periods of religious observance should notify faculty ahead of their absence to make arrangements.
Ahead of this meaningful time, the William James community extend wishes for a happy and sweet New Year (5782). Shana Tova!
Gloria Noronha (she/her/hers)
Director, Office of Inclusive Excellence
Dear William James College Faculty
To our new incoming faculty, welcome to the William James College (WJC) community. It was wonderful meeting with all of you during faculty orientation and I enjoyed sharing with you WJC's vision and initiatives for Diversity, Equity, and Inclusion (DEI). To our returning faculty, WELCOME BACK! I saw many of your wonderful faces on Zoom and during our new student orientations, and I look forward to further interactions and collaborations as the semester gets underway.
I think we can all agree this past year and a half has been anything but easy. We have all been tried and tested physically, emotionally, and socially. As we move forward and continue to be resilient, we strive to make sure the paths to academic, professional, and social success are open and unimpeded to every member of the WJC community. WJC is an educational community comprised of members with various backgrounds and life experiences, and together, we can help make diversity, equity, and inclusion a priority in our daily work and interactions. While my role as your Director of Diversity, Equity, and Inclusion, may serve as a focal point for this work, the responsibility for putting our values into action belongs to each of us. WJC community members are encouraged to always model our values of inclusion no matter where they are, especially during difficult and uncertain times like we have experienced this past year. Let us always choose empathy and kindness, while rejecting hate, and honor the rights, differences, and dignity of others.
Along with the many Office of DEI initiatives/workshops/presentations planned for this coming year, I also wanted to share two recurring themes. These themes were also shared with our incoming staff and students and can be referenced in the attached presentation titled "Creating and Promoting and Equitable College Classroom" that was delivered during New Faculty Orientation. These themes will add to our ongoing commitment to welcome and engage the wisdom, creativity, and aspirations of all peoples. First of all, we live in an increasingly interconnected world and the ability to include, communicate, cooperate, and collaborate with diverse individuals is more important than ever. Therefore, I invite you to create a humanizing environment where no matter your role in this community, we are all human beings first and foremost, and all matter in making our College a welcoming and inclusive environment. A humanizing environment is a place where members feel warmly seen — like they are known, valued, and respected — and feel like it is unnecessary to remain invisible — as in, they feel safe in being seen. In such an environment, our community will be far more likely to be eager to listen, learn, and engage in dialogue around issues of difference, identity, and ideology in and out of the classroom. We embrace diversity, and as a result our viewpoints are enriched, and our community strengthened.
Second, I would like for us to engage with curiosity by inviting a calling-in culture, rather than the calling-out culture we tend to default to. Calling in is the practice of creating opportunities to explore deeper, make meaning together, and find a mutual sense of understanding across difference. When we seek to understand or learn more we can help imagine different perspectives, possibilities, or outcomes. Embracing these themes will foster growth and development towards inclusivity and understanding.
William James College as a whole is motivated to continue to make our community one where everyone can thrive and develop a profound sense of inclusion and belonging.
My deepest appreciation for everything you do.
I look forward to our work together. Happy Fall Semester!
Gloria Noronha (she/her/hers)
Director, Office of Inclusive Excellence
Dear William James Community,
I echo President Covino's note below. Even though this recent violence in Atlanta, which targeted Asian identifying women, is still being investigated, we are once again reminded of the trauma and fear that these acts cause.
It was just last week when we gathered as a community to hold each other and support our Asian and AAPI community members. During this Community Forum our speaker Dr. Roy Kamada, delivered a presentation called The Story of Asians in America. This presentation reminded us of the history of this AAPI hate and the oppressive power of silence. We are also reminded again of the importance of community, allyship, empathy, and support.
I encourage you to; participate in opportunities that will support our community, and continue to increase your awareness through our resource page where our community can learn more about Xenophobia and Anti-Asian Racism.
Thank you for your support and your work in supporting our students.
Gloria Noronha (she/her/hers)
Director, Office of Inclusive Excellence
Dear William James Community,
I would like to invite you to our Community Forum on Thursday, March 4th from 2-3 PM, in support of our Asian American and Pacific Islander (AAPI) identifying community members.
It was about this time last year that we began to learn about this deadly virus. Although we quickly learned that the virus did not discriminate in its contagious spread, acts of discrimination and hate did spread, rapidly, in the months that followed. This hatred, this discrimination, was targeted toward members of our BIPOC family and many of us feared leaving our homes because of our skin color.
For my family, we feared that our Asian identity would be an invitation for a hateful and fearful individual to inflict harm on us. As we created our bubble as a shield to keep us safe from the virus, and as we became more vigilant, we also opened our eyes wider to who our allies were. We knew silence wasn't an option. As a member of several marginalized groups, I know that silence is the oppressor and that, despite my marginalized identities, I had the privilege and the ability to use my voice to shout out these injustices.
In June last year I asked my dear colleagues, Drs. Catherine Vuky, Sukanya Ray and Douglas Ishii to sit with me in a Zoom room and discuss the history of AAPI hate and our part in making a difference. We recorded a conversation, Combatting Xenophobia During COVID19, which pointed to strategies and learning. Through that conversation, we found peace, validation, and family.
Through that conversation, we felt the power of commonality in our different stories and we made our promises to stay connected. These increases in violence against AAPI identifying folks remind us that we need each other, and we need opportunities like this to gather. Thank you to the recent work of two student leaders Kevin Narine and Matthew Eisner, we now have a resource page where our community can learn more about Xenophobia and Anti-Asian Racism.
These increases in violence against AAPI identifying has also stirred up trauma and fears, and my family is again on alert. With even a simple trip to a grocery store right now second-guessed and debated, I am drawn to use my voice to speak out these injustices. I hope you are, too.
Join us as we gather to show our support, validate our fears, and bring our WJC family together in a space of peace in this uncertain time. Zoom details are included below my signature and will also follow in an Outlook invitation.
Gloria Noronha (she/her/hers)
Director, Office of Inclusive Excellence
Dear Faculty, Staff and Students,
This e-mail is two-fold in nature. Thank you in advance for reading this communication.
As we prepare for Thursday's Town Hall at 1:00 PM, the Council for Inclusive Excellence would like to invite those who would like to ask a question or share a comment in advance to please do so via this form. Questions may be read during the Town Hall, or used to inform future conversation.
We will gather for 90 mins to have a meaningful, facilitated dialogue. Our student leadership have vocalized how strong the voice of allyship and active listening needs to be at this time, these are central topics we aim to address. We hope you can join us for this program of learning and sharing.
Last night, our Counseling and Behavioral Health Department held a vigil, facilitated by Dr. Nilda Laboy, that provided a meaningful and reverent space for conversation. Members of our community shared their stories and spoke their truths. From some of the messages shared, we got a glimpse into the ugly truths of our nation's history. As an institution of higher learning, our community must continue to do the anti-racism work now and into the future. A significant part of this work is creating institutional policies and practices that reflect our core values.
Moments like those shared last night teach us about the continued work ahead and the education that is needed foster an inclusive campus climate. As a reminder, the Bias Incident Protocol exists so that any member of the College community can report a possible bias incident they experience or witness. The protocol informs our continued efforts to combat injustices in our community and put our social justice core values in practice. As with all our College policies, we strive toward the highest level of confidentiality and we endeavor to protect the privacy of all individuals involved.
As President Covino stated in his most recent letter to the community, "as with all organizations, this College community is not free from the need for scrutiny, self-examination and repair. Unfortunately, prejudice lives here too. Our aspirations do not absolve us from implicit bias nor even from explicit offense. Where we differ from some organizations is in our commitment to engage each other in discussion, address our errors, and work together to make things better. The change that we want to see happen requires that commitment to creating a respectful and honest discourse as well as to continued action."
The DEI Office is here to support you and we invite you to reach out as needed.
Please e-mail us at inclusiveexcellence@williamjames.edu.
Gloria Noronha (she/her/hers)
Director, Office of Inclusive Excellence