Student Ambassador: Adrianna Rosadio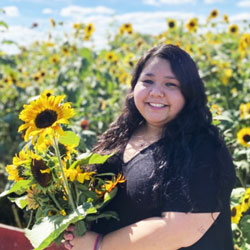 Adrianna Rosadio
Student Ambassador, Clinical Psychology PsyD
Hello prospective students!
My name is Adrianna, and I am a student in the Mental Health Counseling Master's program at William James College. My concentrations are in Forensic and Correctional Counseling, and Substance Use and Addictions. I have been working at Advocates, a non-profit human services agency, for over four years now, as a Therapeutic Youth Support. I have enjoyed this experience, and I am able to apply what I have learned in the classroom, to this job. I chose William James College because the school demonstrates a commitment to diversity, experiential learning, and clinical experience. The school and the various programs offered allow students to expand their experience in the mental health field, while including a social justice approach. I was informed about the school and it's programs by a representative from William James College; they encouraged me to attend an open house, where I was able to speak to current staff and faculty, and current students. I was able to hear about the opportunities and the experiences that the students had, and I was sold.
I graduated from Stonehill College with degrees in Criminology and Mediated Communication. I have always had an interest in the criminal justice system, but I wanted to expand this to include the mental health landscape as well. I was not entirely sure what I was looking for in a graduate program, but I knew I wanted to be able to gain meaningful experiences through my education. After hearing about how William James encourages advocacy, and incorporates social justice into its curriculum, I could not see myself anywhere else. I value that the school provides opportunities to advocate and to educate. The school not only provides a theoretical background to the field, but they also provide opportunities to learn through professional experience. This allows students to apply what they have learned in the classroom to a professional setting.
After graduation, I am looking forward to incorporating my concentrations, education, and advocacy into an outpatient setting, whether it be through a non-profit agency, or a private practice. I have a passion to treat individuals who are struggling with substance use because they are often met with judgment and scrutiny, and I want to change that. I also have a passion to treat individuals who might be at risk of becoming involved with the legal system, because I want to help them realize their potential and to guide them in a different direction. The mental health landscape is something that is prevalent, but it is not something that is always considered, so I want to help increase awareness and treatment. William James College is the exact place I need to be in order to achieve this goal.
The experience I have gotten from William James College is invaluable, and I know I will be able to use my education during the rest of my career. I am currently completing my internship at Family Continuity, as an outpatient counselor for youth and substance use, which is what I would like to do with my career. I would not have had this opportunity if I had not come to William James College, and I cannot recommend the school enough. My advice to incoming students is to take advantage of any opportunities that are given to you, because you never know what you will get from that. Also, make sure to develop relationships with your faculty and staff. I have established some great relationships that I will be able to maintain as professional contacts after graduation. They have encouraged me to take certain opportunities I might not have considered, motivated me to be an advocate for those who do not have one, and they have helped me become a more confident counselor. This is a great opportunity to expand your education, but also to gain self-reflection, so take advantage of it!
Please feel free to reach out to me if you have any questions about the programs, my experience, or anything at all. Best of luck with your journey!