Student Ambassador: Alex Goldmeier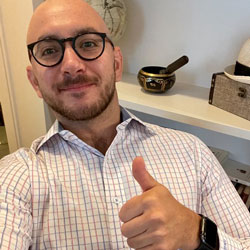 Alex Goldmeier
Student Ambassador, Clinical Psychology PsyD
Hello prospective students! I am grateful to have the opportunity to share my experience and encourage you all to select William James College for your doctoral training and home for the next 5 years!
My name is Alex Goldmeier and I am a doctoral student in the Clinical Psychology PsyD program here at William James College. I grew up in Long Island, NY, and attended The University of Vermont for my undergraduate studies. As an undergraduate student, I was always inquisitive about human behaviors and thinking wanting to understand why people behave the way that they do. In doing so, I had the opportunity to gain experience in a risk and resilience study working with children who have experienced trauma. This has piqued my interest in understanding the impact of trauma on developing youth. After graduating with my Bachelor of Science degree in psychology, I worked on an adolescent inpatient unit at Bellevue Hospital in NYC for two years, serving a diverse population suffering from severe psychiatric disorders and addictions. I feel privileged to be in a profession that allows me to help individuals persevere through their greatest adversities and make meaning of their experiences.
It has always been my dream to become a clinical psychologist. On February 19, 2018, I had a catastrophic skiing accident. I sustained numerous serious injuries, including the dislocation of my thoracic vertebrae (T-4), leaving me a paraplegic. I was applying to graduate programs in clinical psychology at the time of my injury and didn't believe that I would ever be able to enroll in a program and pursue my dreams yet alone live independently again. Over the past few years, I have overcome many challenges and regained independence. William James College played a major role in my journey/pursuit to reach my goals. They supported me from the moment I was injured, allowing me to postpone my interview, holding my spot (which many other programs did not do) until I was in good enough condition to interview. When I interviewed with Dr. Stacy Lambert and Dr. Shellee Robins, not only did they provide great empathy to my situation they welcomed me with open arms and asked how they can support me to achieve my greater purpose of becoming a psychologist. After offering me admission to the program they allowed me to take an additional year off to find my barring's and begin in Fall of 2019. My experience at William James College has been nothing short of a miracle. Not only did they give me enough time to recover to enroll in the program they have supported me every step of the way. Joan from the ARC center helped me find accessible housing in the Boston area, and every other faculty member I have ever encountered has accommodated my needs as a student to succeed.
Today, I live independently in a single apartment, I am enrolled in a full course load, and a full-time practicum (24 hours a week). I am passionate about the material that I am learning and the clinical work that I am conducting. Persevering through my life-changing injury has not only motivated me to give back to my community but also other disadvantaged populations. My personal experience from just interviewing to becoming enrolled as a student speaks to the nature of William James College. Their dedication to inclusion in diversity is one of the main reasons why I chose to pursue my doctorate here. The growth that I have had studying at William James College is insurmountable. I have been challenged and inspired by many of my professors who are active in the field, and it provides an experience unlike anywhere else. It is extremely comforting to feel supported while you are working towards your goals, overcoming obstacles, and achieving success in your endeavors.
My advice for you is to immerse yourself, communicate with professors, and connect with peers in your cohort. The William James community truly cares about you and wants to support you for you to best succeed.
Please feel free to contact me at any time. I would love to share more about my experience at William James College and answer any questions you may have. Wishing you the best on your journey!