Student Ambassador: Allison Lawsky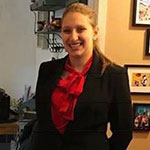 Allison Lawsky
Student Ambassador, Clinical Psychology PsyD
| | |
| --- | --- |
| Hometown | New York |
| College | Brandeis University |
| Program | Clinical Psychology PsyD |
| Concentraiton | Children & Families of Adversity & Resilience (CFAR) |
| Class of | 2024 |
Hello prospective William James applicants! It is my pleasure to encourage your interest in the Clinical PsyD program here at WJC.
My name is Allison Lawsky and I am a doctoral student in the Clinical PsyD program at William James College. My declared concentration is in the Children & Families of Adversity & Resilience (CFAR) program. I grew up in Queens, NY and got my Bachelors of Arts at Brandeis University with a major in Psychology and minor in education studies. As an undergraduate student at Brandeis I was involved in a number of on-campus activities. I worked as a teacher's assistant at the Lemberg Children
After graduating from Brandeis I went back to NY to gain more experience in the field working with children with special needs. I spent a year working at a special education preschool at St. Mary's Hospital for Children, 2 years working closely with a family with a child who has Autism Spectrum disorder and being a teacher for toddlers at an educational day care center.
My dream from a young age has always been to work in some capacity with children. As my love for the field of psychology has grown over the years, my goal now specifically is to become a clinical psychologist for children. Getting to pursue this dream at William James College has been a great honor and privilege. I first heard about WJC during a staff meeting while working at the Lemberg Children's Center at Brandeis University. It was during this meeting that Dr. Bruce Ecker, one of the faculty here at William James, came to speak. Throughout and after his presentation about childhood development and experiences I immediately grew drawn to William James College and what it had to offer. While I would not apply to WJC until about 4 years later, it was always in the back of my mind as the place where I truly wanted to continue pursuing my dreams.
When I decided I was ready to go back to school and pursue my doctorate in clinical psychology, William James was the one and only school I had in mind. With its wonderful field education program that gives students experience within their desired field right from the start, to their incredible faculty who are with you from the very moment you step foot into the community, WJC is a tight-knit community that supports you every step of the way. There is always someone available to help you sort out any possible obstacle you may face and the program prepares you for a plethora of career options and ways to make a difference.
My advice for you is to never be afraid to ask questions. There are so many resources at WJC like the Field Placement Office, the Academic Resource Center and your faculty and peer advisors. Therefore, make use of these wonderful tools and connect to those in both your cohort and your community at large. Preparing to earn a doctorate in psychology can seem like a never ending uphill battle, but WJC makes the light at the end of the road easier for you to see.
Please feel free to contact me at any time. It would be my pleasure to talk with you and share more about my decision to attend William James College and my experiences so far in the Clinical PsyD program. I wish you the best of luck in any and all of your endeavors!!