Student Ambassador: Amanda Derby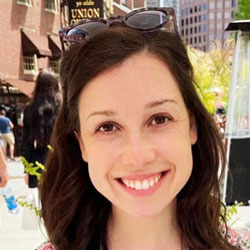 Amanda Derby
Student Ambassador, Clinical Psychology PsyD
Hello prospective students! It is with great excitement that I welcome you on your journey as you search for a doctoral program in Clinical Psychology
My name is Amanda Derby and I am Doctoral student in the Clinical Psychology PsyD program. I grew up right here in Newton, Massachusetts. I attended Lehigh University in Bethlehem, PA for undergrad and Harvard's Graduate School of Education in Cambridge, MA for my masters. While in my master's program and immediately following, I worked for Jewish Family & Children's Services educating teenagers about dating violence and at the Beginnings Child Development Center as a Research Coordinator. Next, I spent two and a half years working as an in-home behavior therapist utilizing Applied Behavioral Analysis with children and adolescents diagnosed with an Autism Spectrum Disorder (ASD). This is where I found my passion (and ultimate career goals) of working with children with ASD and anxiety.
I am currently enrolled in the Children and Families for Adversity and Resilience (CFAR) concentration offered at William James, This year, my practicum placement is at Mclean's Obsessive-Compulsive Disorder Institute and last year I was at Solomon Schechter Day School. I chose to attend William James College because of the immediate practical experience offered. Having worked full-time with children, I was eager to continue developing my skills with a clinical focus. I loved that WJC assisted us prior to matriculation so that we could begin our training as soon as school began.
My advice to new students would be this: open yourself to ALL experiences. While my passion is working with children, specifically those with anxiety and ASD, working with adults at the residential hospital level is teaching me so much more in ways I could never have imagined. I have truly loved my experience this year. By remaining open and taking advantage of all that WJC has to offer, I have explored different clinical paths I might not have otherwise pursued.
I would love to talk to you further on my experience at William James and hear about your interests and career aspirations! Please feel free to reach out to me at amanda_derby@williamjames.edu