Student Ambassador: Christina Conrad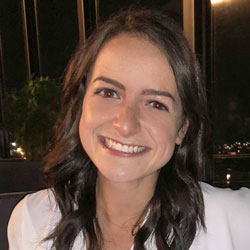 Christina Conrad
Student Ambassador, Clinical Psychology PsyD
Hello prospective students!
My name is Christina Conrad and I am currently a doctoral student in WJC's PsyD program. I was born and raised in the small town of Pelham, NH, where I currently live and commute to WJC. I obtained my bachelor's degree in psychology at Worcester State University in 2020. From a young age, I had always dreamed about obtaining my doctorate degree one day, and I can confidently say choosing William James was the best decision I could have made to make that dream a reality.
I have been passionate about working with children my entire life and seeing WJC's Children and Families of Adversity and Resilience (CFAR) concentration was a major factor in my decision to choose WJC. Additionally, as someone who came straight from undergrad, I had previously lacked clinical experience. William James' five-year clinical practicum exposure has allowed me to gain extensive clinical experience that I would not have been able to obtain at other PsyD programs. I personally believe the clinical opportunities accessible through WJC provide extensive hand-on experience necessary for proper clinical growth.
After completing my doctorate, I hope to become a child psychologist in a hospital or private practice setting. There is no particular modality that I can confidently say I prefer more than the next as WJC does an incredible job educating on each one individually while simultaneously integrating them.
The faculty at William James have been nothing but supportive throughout my time in the program thus far. The best advice that I could ever give an incoming first year is to take the initiative to speak with faculty. Taking the time to get to know faculty and form a relationship with them opens up even more opportunities than previously available including: networking, clerkships, teacher assistant positions, and even simply a supportive shoulder to lean on. The faculty is extensively responsive and open to assist in any questions or concerns you may have.
Every person at WJC from staff, students, and faculty brings a unique perspective and position on mental health. Each person you speak with has an incredible passion for mental health ensuring the future of the field is in good hands. There is always opportunity for growth and consultation assuring you will never be alone in any questions you have. Choosing Willam James College is the best decision I have made to further my professional career, and I would be more than happy to speak with any incoming first year or prospective student with any questions, comments, or concerns you may have. Please feel free to reach out to me via e-mail.