Student Ambassador: Danielle Pace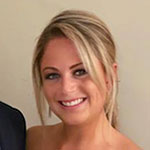 Danielle Pace
Student Ambassador, Clinical Psychology PsyD
Hello prospective students! My name is Danielle and I am currently a doctoral student in the Clinical Psychology PsyD program. I am originally from Maryland but moved to Boston to get my undergraduate degree in psychology from Tufts University. I knew from an early age that I was passionate about clinical psychology, and decided to get my doctorate following graduation from Tufts.
I was extremely intrigued by the clinical practicum internship opportunity that William James College offers. As someone coming from undergrad, I wanted to gain clinical experience as soon as possible and immerse myself in the field. In doing so, I have learned the different fields and found what I am most passionate about. As of right now, I am interested in working with adolescents and young adults suffering from eating disorders and trauma. I thought that the opportunity for direct clinical experience each year would prove to be invaluable and was something unique to the program William James, which immediately drew my interest.
Since I started in the PsyD program, I have been very impressed with the amount of diversity in experiences the students share. Every student comes from different backgrounds, and can come together and learn from one another. The staff at William James does a really great job of creating meaningful relationships with their students. They create an environment where students feel able to go and meet with the professor when necessary and take the time to meet with students individually to help them learn the concepts more thoroughly.
My best advice should you choose to come to William James college would be to use your time wisely. Since this program requires both an internship and classes, there is a lot of work to be done. Learning how to properly manage your time is, in my opinion, critical to finding success within the program. That being said, don't forget about life outside of school. Be sure to take care of yourself and spend time with people who make you happy. Find a balance between your life both in and out of school. It is important!
Feel free to contact me with any questions you may have! I was in your position not too long ago and would be happy to offer you guidance during this process. Best of luck!