Student Ambassador: Hayden Ferguson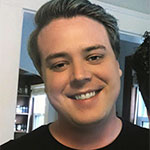 Hayden Ferguson
Student Ambassador, Clinical Psychology PsyD
| | |
| --- | --- |
| Hometown | Montana |
| College | University of Montana, William James College |
| Program | Clinical Psychology PsyD |
| Concentration | Neuropsychology |
| Class of | 2024 |
Greetings Prospective Students!
I grew up in central Montana and attended college in western Montana, earning my undergraduate degrees in Psychology and Fine Art from the University of Montana in Missoula. During my undergraduate career I worked as a research assistant in a variety of psychology research labs covering topics such as LGBTQ issues, substance use disorders, and animal research. After completing my undergraduate degrees, I worked for Montana State University for 2 years as a program coordinator on a number of different research projects coving topics such as women's health, dance/movement therapies to treat depression, substance use related mood disorders, and psychometric meta-analyses. My work as a program coordinator provided me with the opportunity to co-author a number of published manuscripts and present our findings at conferences. I felt my time as a program coordinator better prepared for graduate-level work, so I started searching and applying for programs in the summer of 2017.
In the Summer of 2018, I moved from Montana to Boston to begin the Clinical Mental Health Counseling program at William James College (WJC). I received my master's in 2020 and immediately matriculated into the Clinical Psychology (Psy.D) doctoral program, pursuing a concentration in neuropsychology. Since coming to WJC, I have had the opportunity to work in various settings, including a McLean Hospital day-program, a college counseling center, a school district, an outpatient neuropsychological practice, and the neurology department in a major medical center. I also started working as a student research coordinator for the Office of Program Development, Monitoring, and Evaluation, during my first semester at WJC.
WJC immediately caught my attention in the vast pool of possible graduate programs in the Boston area. Faculty-to-student ratio was important for me in selecting a school and WJC provides just that. I knew building strong connections would be important for my success in graduate school and beyond, and the school has exceeded my expectations. My experience with faculty and administration has been exactly what I was hoping to get: the closeness only a connected community can provide. Faculty members and administration have been extremely supportive of my learning goals in the program, while also encouraging me to solidify and attain my long-term career goals.
I was also drawn to WJC's model of experiential education. In my experience, I have learned much more effectively through doing. During my first semester I was applying skills and theories learned in class to my clinical work. These ideas and skills are no longer in the theoretical sphere, they are now part of my experience as a clinician. William James College requires significantly more clinical hours each year than is required by the commonwealth, which means you leave the school with considerably more experience than students graduating from similar programs.
As you can probably tell from the paragraphs above, I have a profound interest in research. My experiential education at WJC has gone beyond the clinical realm since starting my position in the Office of Program, Development, Monitoring, and Evaluation. I have continued gaining research experience and learning outside the classroom, but I also found a community and support network. I have grown close with my peers, coworkers, and supervisors on this team. These experiential components of the education process not only give you an edge over the competition as a future clinician, but they also provide you with connectedness and belonging.
During my time in the master's program I sharpened my areas of interest; I was in the general emphasis, which allotted me the freedom of taking electives from the other areas of emphasis. I came to realize my passion of working with older adults, specifically within the realm of neurological disorders. Enrolling in the Psy.D program provided me with access and experience with cognitnive, neuropsychological, and personality assessment across the lifespan.
Administration, faculty, and staff have been incredibly supportive helping me attain my long-term career goals by connecting me with clinical faculty, suggesting conferences, offering research opportunities, providing additional training, securing potential job interviews, demystifying the training process, and helping me search for scholarships. While WJC is a smaller institution, the opportunity for specialized training and coursework is abundant.
The administration, faculty, staff, and student body at WJC are truly dedicated to serving the underserved, building diversity in the mental health field, and educating the next generation of clinicians. I am honored to be a part of this community and look forward to my future as a graduate from this program. If you have any questions, please feel free to reach out to me via email.