Student Ambassador: Hayley Doneghey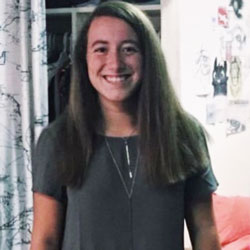 Hayley Doneghey
Student Ambassador, Clinical Psychology PsyD
Hi prospective students! My name is Hayley Doneghey and I am from North Attleboro, Massachusetts. I am a full-time student in the Clinical Psychology program, with an emphasis in Forensic and Correctional Counseling. Before coming to WJC, I graduated from Franklin Pierce University with my BA in Psychology and a minor in Forensic Psychology.
When applying to graduate programs, a big thing that stood out to me was the wide range of concentrations and emphases that WJC had to offer. Knowing that I wanted to continue with the path I started during my undergrad, the Forensic and Correctional Counseling emphasis seemed like a perfect fit. Additionally, I learn most effectively when I am out in the field practicing the skills that we learn in the classroom, so the strong focus on practicum and internship experiences was extremely appealing to me as well. As someone who held several leadership positions academically and athletically at Franklin Pierce, I love that I can expand on those skills with the Academic Council Engaging Students (ACES) team here on campus. The close-knit community allowed me to form meaningful connections with several faculty members, as well as make some lifelong friends with other students in the program.
With the amount of stress and emotions that can come up while working in this field, my best piece of advice for first year students is to always have something outside of counseling that you can do when you need an escape from the work. For me, I coach a youth ice hockey team a few nights a week, and it is the perfect way for me to have fun and clear my head for a little while. Lastly, I would encourage you to lean on the faculty and your fellow students throughout your time in the program. Do not be afraid to ask for help. There is no point in trying to work through things on your own when you have the most supportive group of people working right beside you.
Please do not hesitate to reach with any questions, and good luck!!