Student Ambassador: Judith Dayaw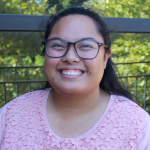 Judith Dayaw
Student Ambassador, Clinical Psychology PsyD
My name is Judith Nicole Dayaw and I am currently a doctoral student at William James College in the Clinical PsyD program. I grew up in Bellingham, Massachusetts and received my Bachelor of Science in Biology, my Bachelor of Arts in Psychology, and my minor in Neuroscience at Providence College. At Providence College, I was a part of the Neuroscience and Animal Cognition Lab where I was given the opportunity to lead various experimental projects with rodents in areas such as sociality, and memory. For the longest time, I thought I wanted to go to medical school, but after learning more about Neuropsychology from the classes offered at Providence College, I made the decision to pursue a PsyD.
After graduating from Providence College in 2019, I directly went to William James College to begin my journey as a clinical neuropsychologist. I am in the neuropsychology concentration and I am interested in working with the geriatric community, with the use of cognitive assessments. I'm interested in age-related memory disorders and how lifestyle changes/intervention aid in preventing neurodegeneration.
I was drawn to William James College due to its hands-on experience that occurs immediately within your first year at the program. William James College places their students beginning in their first year at training sites to obtain in-field learning. This allows students to directly apply what they have learned in the classroom and bring them to their training sites to be implemented and practiced. The early field experience was one of the biggest things that drew me into coming to William James College.
For students who enter William James College or for those who are thinking of coming to William James College, my best advice is to keep asking questions. Whenever you have a question, whether you are uncertain or confused, ask someone. Ask you classmates, your professors, or you advisors. I have found that everyone has an answer, and if they don't, they are fantastic about redirecting you to people who do have the correct answer. Everyone is here to support you through your program, and that was something that made me closer to my professors here at William James College.
Please free to reach out and contact me with any you may have about being a student here at William James College! I'm glad to share more about my experiences at William James College and as a student in the Clinical PsyD program!