Student Ambassador: Katrina Dayaw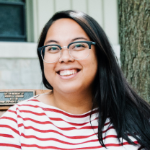 Katrina Dayaw
Student Ambassador, Clinical Psychology PsyD
To the prospective students of William James College:
My name is Katrina Isabel Dayaw and I am a doctoral student in the Clinical Psychology Program (PsyD) here at William James College. I grew up in Bellingham, MA where I currently still reside as I continue my studies here. In 2019, I graduated with a BS in Biology and BA in Psychology from Providence College. During my time there, I worked in Neuroscience and Animal Cognition Lab for three years under Dr. Victoria Templer. I worked on projects aimed towards understanding the role of sociality in cognitive functioning. I continued onto William James immediately following my undergraduate degree knowing my interests lied in Neuropsychology.
I chose William James College because of their emphasis on early applied practice. We are given the opportunity to work in the field and receive training in conjunction with our academic studies in the classroom. Many of these training sites are well-known throughout the Boston area. These early training opportunities begin in your first year at William James College and will continue each year into your internship. This allows you to take evidence-based practice and theories that are taught in the classroom and be able to apply with your clients at your practicum site. I was especially attracted to their wide variety of concentrations that help guide our degree towards our interests in the field. There is a great sense of diversity here at William James that has helped build a strong community with the students, faculty, and alumni that have come through this school.
I am currently placed at the Gifford School located in Weston, MA where I practice therapy of adolescents in the milieu. For my second-year site, I have been accepted at the New England Assessment and Treatment Group located in Brighton, MA where I will be conducting various neuropsychological batteries across the lifespan. There are many opportunities that can fit the interests of any student looking to continue their education in Clinical Psychology. In the future, I hope to continue to work with all people across the lifespan and help develop meaningful connections to their lives through neuropsychological evaluations.
Please reach out and immerse yourself in what William James College has to offer. Many faculty and students are eager to connect with you and can help with your decision to join William James for your doctoral degree. Self-advocate and know what you really are seeking out of your graduate degree. I encourage you to ask many questions and to take in process.
Please contact me if you have any questions about your decision to join William James and be able to provide you some experiences and advice that I have gained! I look forward to hearing from you!