Student Ambassador: Leora Citrin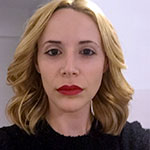 Leora Citrin
Student Ambassador, Clinical Psychology PsyD
Greetings!
Hello and welcome to my page! My name is Leora and I am a student in the Clinical Mental Health Counseling Master's program at William James College. I grew up on Long Island, NY, graduated with honors from Hofstra University with a BA in history, and decided to move to New York City afterwards.
Since I was a child, I strongly felt the desire to care for those who needed extra help and guidance. My interest in psychology began when I started visiting a psychologist after my father passed away when I was a freshman in college. The positive experience and the wonderful impact my therapist had on me made me realize that I wanted to dedicate the rest of my life to psychology. Not only did I enjoy the subject immensely, but I became passionate about psychology because it saved my life. Subsequently, I felt the need to give back to the field that dramatically changed every facet of my life for the best.
I chose William James College for a myriad of reasons. I liked how small the class sizes were because it ensured that all students would be given the attention and help they needed from their professors. Also, it was important for me to take classes in person. WJC is great in this way because students have the ability to take courses in person or online. Additionally, the incredible reputation WJC has was a factor in my decision. Not only do clinicians know about the exceptional instruction graduates receive and therefore, are impressed to hear if you are attending or graduated from WJC, but the percentage of graduates in the Master's and doctoral programs that enjoy their chosen field and are able to find work six months after graduation is extremely high. This was a major concern of mine because many graduates from graduate psychology schools do not receive adequate preparation for licensure, the real world, and have a difficult time securing work after graduation. Finally, I wanted a curriculum that focused on book and experiential learning; which WJC provides via practicum and internship.
Once I earn my doctorate in clinical psychology, I hope to work in a community health center and/or a hospital for a few years before I go into private practice. I cannot say that I subscribe to only one theoretical orientation. Like most clinicians, mine is integrative. I integrate feminist therapy, cognitive-behavioral therapy, narrative therapy, psychoanalytic therapy, and existential therapy when working with clients. I have always been interested in working with clients who are or have experienced trauma/PTSD, anxiety, grief, and depression. Additionally, I am very interested in counseling and supporting members of the LGBTQ community.
I would encourage all prospective grad students to learn as much as they can from, be kind, gracious, and respectful to their professors and supervisors. They have a plethora of information that will help you grow and be a better clinician. Remember to keep an open mind, don't be afraid to ask questions-no matter how stupid, network whenever given the opportunity, and plan and firmly adhere to a schedule to ensure that you get all of your assignments done before the deadline. Finally, make time in your schedule for self-care. Don't underscore the importance of making time for yourself now and then. The programs at WJC are rigorous. Therefore, partaking in leisure activities will ensure optimum physical and mental health.