Student Ambassador: Nicole Poulter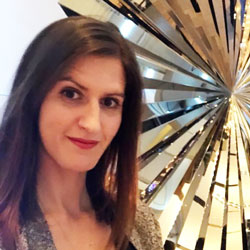 Nicole Poulter
Student Ambassador, Clinical Psychology PsyD
Originally from Connecticut, I moved to Boston in 2009 to attend Berklee College of Music to study Music Therapy and Vocal Performance. I worked as a full-time musician, music therapist and teacher prior to pursing my doctorate in psychology. As much as I loved music and continue to incorporate music therapy into my clinical work, I wanted to fill the holes in my education to better help my clients and students. I chose William James College because of their emphasis on both theory and practice, field education experiences and the exceptional professors.
I have been involved with ACES (Leadership) since my first year. I started as an active member and became the LEAD representative during my 3rd year. My role includes advocating for students' needs and developing initiatives that will help improve the student experience. Additionally, I founded and co-lead the Music and Psychology club, which provides students with a space to connect over music and how to incorporate it into our practice in meaningful ways.
My goal is to work in an outpatient setting with children, adolescents, young adults, as well as families and couples. I hope to work with individuals struggling with anxiety, depression, trauma and eating disorders. Additionally, during my time at William James, I have developed a passion for assessment. I plan to incorporate assessment in my future training and career, with an emphasis on diagnostic questions relating to learning disorder, ADHD, Autism, and personality disorders.
My advice to prospective or incoming students is to find people and resources that will help you grow. Utilize every resource WJC has to offer you, and that includes the knowledge and support of professors. Don't be afraid to ask questions or advocate for what you need. Have an idea of what you want to work towards but accept any opportunities to uncover new interests. Most importantly, a doctoral program is not always easy, but you must take care of yourself, both physically and mentally health. Always make time for yourself and the other important people in your life.
Good luck with the application process, and hope you'll reach out with any questions!