Student Ambassador: Nuria Martinez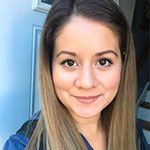 Nuria Martinez
Student Ambassador, Clinical Mental Health Counseling MA
Hi, there prospective students!
My name is Nuria, and I am a 3rd year, part-time student in the Clinical Mental Health Counseling program, with an emphasis in Health and Behavioral Medicine and a concentration in Latino Mental Health. I currently work for Family ACCESS of Newton as a young parent specialist for Spanish-speaking families. As a Latina, first-generation college student, and parent, I searched for a supportive and diverse environment that would honor my experience. William James College has exceeded my expectations and has provided an exceptionally diverse and inclusive atmosphere. Latino Mental Health has always been a part of my life, even more so now as a mother. The Latino Mental Health Program at WJC has provided the opportunity to utilize that experience while learning clinical skills in the classroom and experiential learning.
My objective for graduate studies in psychology is to continue to provide clinical services to underserved populations in their native language. As a daughter to immigrant parents from El Salvador, I have witnessed the systemic barriers in place, language being one of them. Moreover, my time at William James College, alongside my clinical case management experience, has taught me the importance of advocacy. As a student leader in the Academic Councils Engage Students (ACES), I have used this platform to give voice to pertinent issues affecting the Latinx population, such as immigration and social policy. I plan to continue to be an advocate for my clients and the Latinx population. I am grateful to William James College for allowing me to do that and more.
As a parent, the decision to continue education can be intimidating. My advice for all students, especially fellow parents, is to establish a support network inside and outside of William James College. I strongly encourage students to get to know the faculty and staff, giving them a chance to know you. The experience of being a parent and a student is unique. William James College has allowed me to showcase this set of skills while providing an immense amount of encouragement and support!
Please feel free to reach out with any questions. Best of luck!