Student Ambassador: Paul Coppola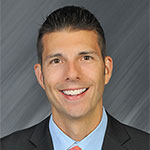 Paul Coppola, MBA
Student Ambassador, Leadership Psychology PsyD
As a perpetual learner with a natural hunger and curiosity for personal and professional growth, I found myself searching for a doctoral program where I could feel a strong sense of community, a supportive learning environment and an experience where I could carry the theory and practice forward to have a more deliberate impact on the broader system and society.
As a business leader in the healthcare field for many years, I have both formally and informally worked at the individual level through coaching, team development and driving cultural change at the organizational level. Taking this next step is preparing me to think even more strategically and be more consultative to the organizations and systems I work within.
Although I do not have a clinical license, the underpinning of my work in behavioral science and business has been a powerful combination to compliment the doctoral training in organization and leadership psychology (OLP). It not only helps to more deeply inform how to navigate people through the system, but also helps to explain why things may be happening.
On a personal level, it was important for me to find a program and educational institution that modeled the behaviors of compassion, equitability and excellence. At William James I have been able to find all of this, plus a strong sense of community within the faculty, my cohort and the student body. I have deepened this through participation in student organizations such as the OLP Academic Council Engaging Students (ACES) and the OLP Committee for Dismantling Systemic Racism. While I am only part of the way through this journey, I am already finding this experience to be transformative.
Brene Brown had once said in her publication of Dare to Lead, "the courage to be vulnerable is not about winning or losing, it's about the courage to show up when you can't predict or control the outcome." While making the decision to pursue a doctorate can be daunting, know you are not alone and the investment in yourself will be worth it.
I know first-hand the research process can be a big undertaking, but I wish you the best of luck in your decision-making. If I can be of any help in answering any questions, please feel free to reach out.