Student Ambassador: Sandra Bazalar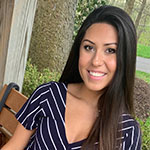 Sandra Bazalar
Student Ambassador, Clinical Mental Health Counseling MA
| | |
| --- | --- |
| Hometown | New Jersey |
| College | University of Pittsburgh |
| Program | Clinical Mental Health Counseling |
| Concentration | Latino Mental Health Concentration |
| Class of | 2022 |
Hi there prospective students!
My name is Sandra, and I am a student on the general track with a concentration in Latino mental health. I chose William James College because of the commitment the school has to social justice, diversity, and advocacy. WJC is also unique because of the several concentrations/areas of studies that students have the option to participate in. This commitment to diversity and social justice has been embraced by the faculty and staff at the college and have been incorporated in every aspect of the classroom environment. As a Latina coming into the field of mental health, where my identity is not always represented, my presence felt welcomed and supported by my professors and advisors.
While the classroom experience already caught my attention, the emphasis WJC places on experiential learning was also a reason behind my decision to commit to the school. This allows students to bring what they learn in the classroom to their practicum/internship experience and put theory into practice.
While having started in CMHC program amid the Covid-19 pandemic, I still found the opportunity to become involved in campus initiatives via zoom. This has made my unique experience better than I could have imagined because I have been able to connect with people throughout the college. I'm. currently an ACES (academic councils engaging students) representative, as well as a group member in the First-Generation group.
I came into this program having a great understanding of what direction I wanted to take my career in. My intentions are to work with the Latinx populations in different environments, such as non-profit organizations, community mental health, and private practice. This interest is rooted in my upbringing where I have immigrant parents who have been able to show me the power of helping others in need through different acts of service. I want to take this value with me in my career endeavors where I continue to serve the underserved in the field of mental health.
As for advice I have for new students, I would strongly encourage students to take advantage of the resources William James College has to offer. By this, I mean joining student groups or campus initiatives to connect with others outside of your program's cohort. Not only is this great for networking, but it allows students to build a sense of community within the school. I also encourage new students to sit in on any panels or presentations organized by faculty, staff, and/or students. There is a wealth of knowledge that students have access to throughout their time at WJC, so take advantage of it! Finally, and most importantly, practice self-care. As students in this field, taking care of ourselves an important part of finding success.
Please reach out with any questions you may have. Best of luck!