Student Ambassador: Tania B. Remole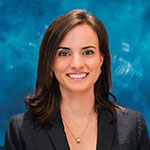 Tania B. Remole
Student Ambassador, Clinical Mental Health Counseling MA
| | |
| --- | --- |
| Hometown | Connecticut |
| College | Fordham University |
| Program | Clinical Mental Health Counseling |
| Concentration | Latino Mental Health |
| Area of Emphasis | Health and Behavioral Medicine |
| Class of | 2021 |
Hi there!
I joined William James College (WJC) from the pharmaceutical industry where I held roles in human resources, communications, and business strategy & operations. I discovered WJC when a former co-worker introduced it to me as "the school" for psychology. I was immediately drawn to the experiential learning that is core to the program. After working for nearly five years, I appreciated the value of gaining on the job experience that WJC provides from day one.
My objective for graduate studies in psychology is to acquire the skills necessary to treat behavioral health issues through a holistic lens in close collaboration with patients. I am also interested in working with populations with multicultural differences, having been raised by a Peruvian mother and Belgian father. I did my first-year practicum with the PATHWAYS Program at a Boston Public School where I administered school-based, direct care services including mental health screenings (pre- and post-interventions), individual counseling, group therapy, and mentoring. I am now interning at the East Boston Neighborhood Health Center where I provide assessment, referral, and short-term, solution-focused individual psychotherapy to adult patients in both Spanish and English.
I have loved the opportunities to build strong relationships with students, faculty, staff, and partners at WJC. I am a student leader in the Academic Councils Engage Students (ACES), our program's student government body. I am also a student representative on the Council of Inclusive Excellence, the on-campus advisory body for the President and senior leadership charged with creating an inclusive campus for all. I am very happy to be a part of the wonderful WJC community in pursuit of my graduate education in psychology.
I wish you the best in your applications to graduate school. Please feel free to reach out with any questions!