Minor in Applied Behavior Analysis
Applied Behavior Analysis
Prepare for a career as a Registered Behavior Technician
The Bachelor of Science in Psychology and Human Services offers a Minor in Applied Behavior Analysis. This minor increases the employability of BSPHS students by providing preparation for a career as a Registered Behavior Technician® (RBT). It also prepares students to complete the ABA Master's degree program at William James College.
The RBT is a paraprofessional certification in behavior analysis. RBTs assist in delivering behavior analysis services and practice under the direction and close supervision of an RBT Supervisor and/or an RBT Requirements Coordinator. In order to qualify as and RBT, individuals must complete a 40-hour training program under the supervision of a BCBA and complete an examination offered by the Applied Behavior Analysis Certification Board.
While the RBT is the entry level credential for a career in ABA, this minor goes beyond the base requirements, preparing students to continue toward a BCABA credential (with a BS and additional supervised hours) or a BCBA with a Master's degree and additional supervised hours. This particular minor provides the option for a student who achieves a grade of 83% or higher in all classes to receive credit for 2 graduate level courses in the William James College program.
---
Curriculum Overview
Bachelor of Science in Psychology and Human Services Required Courses:
Applied Behavior Analysis Minor Required Courses:

One of the following rotating electives:
Program Director
If you have any questions, please contact Dr. Kerri Agusto.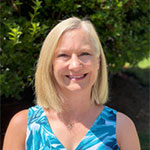 Associate Professor, BS in Psychology and Human Services
Director, Undergraduate Studies
kerri_augusto@williamjames.edu