Dr. Cynthia Lucero Day of Celebration
Dr. Cynthia Lucero Day of Celebration
Saturday, April 17, 2021
Join Us on Social Media Using #LuceroLegacy
---
Who was Dr. Cynthia Lucero?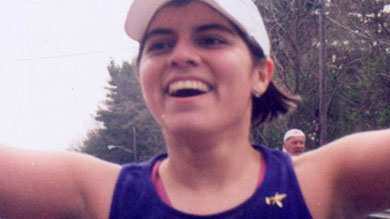 Dr. Cynthia Lucero was a much-loved William James College graduate from Ecuador. She completed her doctoral project, "Effects of A Marathon Training Program on Family Members and Friends of Cancer Patients," shortly before she herself would run the 2002 Boston Marathon. Tragically, Cynthia collapsed while running the race, and days later she passed away.
During her lifetime, Cynthia was a strong community-advocate. From volunteering at Boston Logan Airport after 9/11 to working with at risk youth, it was clear she wanted to make a difference in the lives of others.
The William James College Dr. Cynthia Lucero Center for Latino Mental Health carries her name and legacy. It aims to address the mental health needs of Latinx populations through culturally-responsive training, education and hands-on experiences. In memory of Cynthia, the William James College community comes together every April for a special event celebrating the Lucero Legacy.
About the 2021 Virtual Event
Join the William James College community and the Lucero Latino Mental Health Program (LMHP) on Saturday, April 17, 2021 to honor Dr. Cynthia Lucero. While we can't gather in person this year, we'll be turning to social media to share the ways in which we remember Dr. Cynthia Lucero and celebrate her legacy. Use #LuceroLegacy on Facebook, Twitter or Instagram to follow along, or join in yourself by sharing a picture, video or note. Here are some ideas, or come up with your own!
How to Participate
Run, walk or engage in some other form of exercise
Share in Cynthia's love of running or engage in your own favorite exercise. Whether it's a walk around the neighborhood, a run on a treadmill, a yoga class or something else, share a photo or video to social media using #LuceroLegacy.
Make a donation to the Lucero Latino Mental Health Program
Each year, the LMHP awards one Cynthia Lucero Scholarship to a deserving student who exhibits a strong dedication and commitment to the delivery of human services to the Latinx community. Your gift will help make a difference. Share why you give back using #LuceroLegacy.
Perform a Random Act of Kindness
Take inspiration from Cynthia's dedication to her community and do something kind for someone else today.
Learn about Latino Mental Health
One in every eight individuals living in the U.S. is Hispanic or Latinx, and by 2050, one-quarter of the population will be of Hispanic descent. Take some time today to learn more about the unique experiences of this growing population. Share a fact you learned using #LuceroLegacy.
Here are some resources, curated by the LMHP, to get started: