2007 Lucero Scholar: Darleen Gracia, PsyD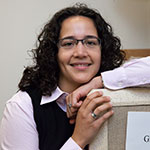 Darleen Gracia
2007 Lucero Scholar, Clinical Psychology PsyD
Originally from Puerto Rico, but family resides in CT for 20+ years. University of Connecticut, BA in Psychology and Sociology; Boston College, MA in Counseling Clinical PsyD Program, Latino Mental Health Concentration.
What does it mean to you to be a Lucero Scholar?
Being selected as the second Lucero Scholar was one of the biggest honors I've received throughout my entire academic career. I saw it as a calling. As a sign that William James College was where I was meant to be. That I was finally going to have a chance to make my dream of being a doctor a reality. An opportunity to fulfill my own social justice mission and simultaneously make my family proud. I am in the first generation in my family to receive higher education and personally, the first (and only…to my knowledge) to get a doctoral degree.
What has this opportunity allowed you to do that you may not have otherwise pursued?
Although I told myself at the start of my pursuit for higher education that I would never let financial limitations stop me, receiving the Lucero scholarship was a blessing because it provided a sturdier foundation from which I could continue to build and reach my career goal of being a doctor. It also solidified my confidence that my unrelenting perseverance and belief in myself was finally going to "pay off." I'm a big believer in the saying that goes: "good things come to those who wait…" and for me, this couldn't be more true.
Can you tell us about some of the field placements where your Latino Mental Health training has impacted your relationship with clients in a transformative way?
My very first practicum was with Latino clients and at that point in time, I'd yet to really learn about mental health issues specific to Latinos, particularly in the clinical context. In many ways I was still "green" and thus relied on my personal experiences growing up Latina and used that to the best of my ability. That tactic worked out alright in the end, but in hindsight, I know that it was just not enough. I felt that I had somehow cheated my Latino clients from experiencing "true" cultural competence from my end. It wasn't until this year, my 3rd year internship, (after the two Summer immersion experiences) that I began to truly feel and live what it meant to be culturally sensitive, attuned, and savvy. That's not to say of course that I have it all figured out, but it wasn't until all of the clinical experiences in Costa Rica and Ecuador set in and became solidified that I began to view the practice of providing mental health services to Latinos with a renewed sense of ownership. That is to say, I no longer was relying on the fact that because I am Latina and because I am a native Spanish speaker that that was sufficient to "get by." Rather, I view these cultural treasures as a way to get my foot in the therapeutic door with clients, but the rest comes from realizing that the client has their own views, beliefs, schemas, experiences, practices, stories, and their own voice. My job is not to interpret their words to fit a clinical mold, but rather it is to listen with an open mind and with unbiased ears so that they may teach me about all the different parts that make up their internal and external world.
Can you tell me if there is anything in your own background/history that impacted your decision to be a Latino Mental Health student at William James College?
I often (half) joke with people that "I've always wanted to use my Spanish skills for the greater good and now I am doing that thanks to William James College." In all sincerity, I had no idea that anything like the LMHP existed until a friend of mine during my masters program at Boston College mentioned something about a Psy.D. at a small local school called William James College. Once I learned what the Psy.D. was, I was instantly attracted to William James College. Imagine my great surprise when later I learned about the Lucero LMH program and that it had the potential for a scholarship! It was as if all the puzzle pieces that shaped my life came together and began to create the landscape of the path I was to take. I have to admit that I am a fatalist at heart because my life mantra is "what's meant to be for you will always find its way." Hence, I feel my story about how I got to William James College and the LMHP can only simply be explained by that small nugget of wisdom.
What's more, the fact that I ended up a Lucero scholar was more validating than even being accepted into the school. The reason for that being that when I was in high school I was told by an awful high school guidance counselor that I wasn't "qualified" to apply for a full undergraduate scholarship for Latinos and so I didn't. To this day, I feel emotionally affected by that experience of overt racism. When I saw the opportunity to apply for the Lucero scholarship, I knew that this was my chance to not only have a corrective experience, but to also express and solidify my commitment to give back to the Latino community that I came from. Hence, I knew there was no doubt in my mind that I wanted to be part of our community and most definitely the LMH program.
You can read more about Darleen in our recent Rapport publication. Click here to read her profile.
Entering Class of 2007
Graduated from Clinical PsyD program in 2011