Student Ambassador: Christine O'Brien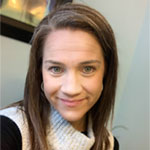 Christine O'Brien
Student Ambassador, Leadership Psychology PsyD
| | |
| --- | --- |
| Hometown | Massachusetts |
| College | Bentley University, William James College |
| Program | Leadership Psychology PsyD |
| Concentration | Children and Families of Adversity and Resilience (CFAR) |
| Class of | 2024 |
My road to William James College was an unexpected one. After attending Bentley University and receiving a degree in Marketing Communications, I worked in large companies and startups doing strategic marketing. After being impacted by a couple of downsizes, I slowed down to reflect. What do I want to do from here? I had recently completed a coaching program and I was pulled towards a profession in helping. Organizational Psychology and Leadership Psychology allow me to fulfill my life's work of helping create systemic change.
Learning about systems, people, processes, and change has provided me newfound energy and excitement about my career. This field of study is the perfect marriage between coaching, my business background, and the desire to create lasting change. On top of that, organizational development is growing faster than average job rates across industires. The career options, projected salaries, and ability to work with people were all must-haves for me.
Why William James College? Hands on learning is essential to building a network and learning to apply theory in real life situations. My favorite part of the programs at William James are the field placement and practicum requirements. They allow me to develop my consulting skills and act as a shadow consultant to my classmates with the guidance of experienced practitioners. It helps you absorb the material and builds a very strong resume at the time of graduation (always a plus!)
Halfway through my master's degree in Organizational Psychology at William James College, I knew continuing into the Leadership Psychology PsyD Program was in my future. The 11-month master program was so engaging that I had already begun brainstorming research ideas for a doctoral project. I was not ready to leave the amazing staff quite yet. They are generous with their time, knowledge, and support. There was so much more for me to learn about psychological safety in the workplace, employee burnout, DEI, and how organizational development could help create positive change across many industries. I am a firm believer that a new c-suite role will be added soon, Chief Wellbeing Officer, and these programs will prepare me for the day when those roles are more commonplace.
Making the decision to invest in furthering your education is exciting but can be overwhelming. To ensure you are making the best decision for you, review the curriculum in detail and make sure it meets your career and life goals.
I am blessed to be on this journey and hope to see many more join us soon! Please reach out with any questions. I look forward to connecting with you.