Student Ambassador: Leah Arisman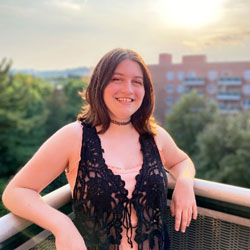 Leah Arisman
Student Ambassador, Clinical Psychology PsyD
Hello! My name is Leah Arisman, and I am a first-year student in the Clinical Psychology PsyD program. I am from Springfield, Illinois, so I moved quite a distance for this program.
I chose to come to William James College because of its reputation as a school that creates great psychologists. Also, I loved the fact that WJC has first-years start at practicum right away. It also helped that it is on the east coast, where I have always wanted to live! I am not involved in campus initiatives yet, but I am planning to become more and more involved. I am currently in a work study position at the Brenner Center scanning medical records.
I plan on concentrating on Forensics as my career goals are in that area; I would like to work in prisons doing therapy, being an expert witness in court, and doing assessments for ability to stand trial. Incoming first years, remember that you are here to learn first and foremost; the grades will follow! Feel free to reach out to me with any questions you may have.