Student Ambassador: Madeline Lusi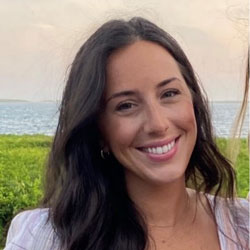 Madeline Lusi
Student Ambassador, School Psychology MA/CAGS
Hi all!
My name is Maddie and I am from East Greenwich, RI. I am currently a student in the School Psychology MA/CAGS program. I received my bachelor's degree from Union College where I studied English and Psychology. Prior to joining William James College, I worked as a Kindergarten Montessori teacher in Rhode Island. I have always been passionate about working with children, and I found school psychology to be the perfect role to combine that passion with my interests in psychology and mental health. My professional interests in school psychology include counseling, consultation, and social & emotional learning. In my free time, I love to bake, spend time with friends, and take my dog to the beach or for a hike!
I chose William James College for a number of reasons. Most importantly, when I visited the school on interview day, I immediately felt at home. The faculty and other school psychology students cared about getting to know me and all other prospective students just as much as we cared about getting to know them. The small program sizes at WJC really support an environment where each individual is appreciated for their unique backgrounds and strengths. Another reason why William James College stands out to me is because of their incredibly knowledgeable instructors who each express a true passion for school psychology. I find myself learning so much in just one class, and my confidence in my abilities grows each day under the support of my instructors here at WJC. As school psychology professionals that are trained in supporting the wellbeing of students, the instructors are incredibly supportive of graduate students in the program and offer flexibility and support during stressful times.
Having the opportunity to engage in field work at a practicum site your first year in the program is also something unique to WJC. Getting to work in the field while taking classes truly advances your career path and allows you to understand class material in a deeper way.
If you are a new student to William James College, I would encourage you to take advantage of all of the experienced and brilliant professionals around you for help and support. Ask many questions and utilize the supports around you whether it be through instructors, professionals at the Academic Resource Center (ARC), or your classmates.
If you have any questions about William James College or school psychology in general, please feel free to reach out to me!