Student Ambassador: Melanie Robinson-Findlay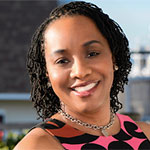 Melanie Robinson-Findlay
Student Ambassador, Clinical Psychology PsyD
Greetings from a second-year student! My name is Melanie Robinson Findlay. I am an immigrant born to immigrant parents, older than most of my peers, and the mother of a thirteen-year-old son. My journey into the field began eleven years ago when I became a clinical social worker. I built my career dedicated to working with underserved populations in various settings. Whether it was a correctional facility, a community mental health center, the Juvenile Court Clinic or my private practice, I worked with individuals who were managing separation from their communities due to court involvement or incarceration and individuals and families managing everyday life struggles in the community. Witnessing how similar and different struggles can be amongst various groups of people taught me valuable lessons; 1) pursue context—it matters, and 2) do not ignore the power of understanding the reciprocal relationship between individuals and their environments.
Embracing these lessons led me to be recruited to teach in three Schools of Social Work in Boston and on November 20, 2015, my appointment to the Board of Registration of Social Workers in Massachusetts, by Governor Baker. In December of 2017, I became the the first Black woman to serve as Chair of the Board.
I chose to return to school at WJC to pursue a doctorate degree in clinical psychology because although I am already a mental health clinician, I want to expand my skillset. I am entering the Neuropsychology and Forensic Concentrations with the intent to become a neuropsychologist with a specialty in Forensic Psychology. I intend to use my newly acquired knowledge to explore the effects of race and culture on test administration for both the evaluator and the patient and how this affects forensic cases, policy, mental health care, and the lives of marginalized populations.
WJC provides communities of support. I am a Black Mental Health Graduate Academy Scholar, a Center for Multicultural and Global Mental Health Fellow and a member of the Student Parent and Caregivers Group. All three of these communities, remind me that I have a place at WJC and that there are people here who support my journey to graduation.
Returning to school as a non-traditional student can be intimidating. My advice: know that there is room for your experience in every classroom. You bring a perspective that enriches classroom discussions so don't be shy- come and share it with us! After all, the field only gets better as we learn from and with each other.