"Faking Bad" Clinical PsyD Student's Neuropsychology Research Finds a More Accurate Measure of Honesty in Brain Waves
By Staff Report
Oct 9, 2019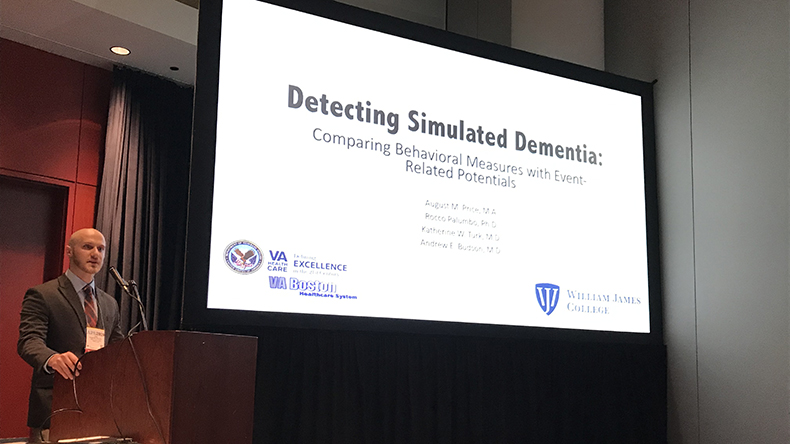 Malingering, or the act of faking or exaggerating symptoms for financial compensation or to avoid responsibility, is an issue that can have negative effects that extend well beyond the individual. Communities can experience financial strain or see impacts on the availability of health care providers, and there are burdens for public safety and legal processes as well. August Price, a William James College fourth-year clinical psychology student, addresses the problem of malingering in his doctoral research.
On the surface Price's research is lie detection but the process, he says, is much more complex. Price uses Event-Related Potentials (ERP), which monitor electrical brain wave activity while the participant performs an attention-based task. Through the research, Price discovered that individuals are unable to "fake" the electrical activity in their brain. So, he said, while they may be able to manipulate or "fake" their behavioral performance on the attention-based task, their physiologic brain wave activity remains unchanged, allowing the clinician to determine whether or not the individual is being honest in their test performance.
For this particular study, Price compared the electrical brain activity between 20 probable Alzheimer's disease patients to 20 healthy control participants. In one session, the control group performed the attention-based task honestly, and in a second, they performed the same task while simulating dementia. The results confirmed that healthy controls, regardless of whether they were performing honestly or simulating dementia, produced nearly identical electrical potentials in the brain. Price said he believes this research will be most applicable in the forensic psychology field in addition to standard neuropsychological assessments.
"Malingering or 'faking bad' is most often a problem in legal cases or litigation," he said, adding that his test is "a very accurate measure of honesty, due to the brain's electrical activity being out of the realm of our cognitive control. Neuropsychologists and other assessment psychologists may also use this measure to ensure they're obtaining valid and reliable results from patients."
Price has presented this research at conferences across the country and won best poster presentation at two separate conferences, one in San Diego and one in Boston. Most recently, he gave a presentation at the 2019 American Psychological Association's Annual Convention in Chicago. "The APA Convention was easily the largest and most diverse conference I have ever attended. I was the only student seated among a panel of very well-established research psychologists from all over the globe," said Price. "The audience at APA seemed very interested in my work and challenged me with some tough questions, [and] several William James students attended in support of myself and the project, which was very much appreciated."
Other participants in Price's session included: Dr. Gabriel De la Torre, vice dean of academic affairs and assistant professor of psychology at the University of Cadiz in Spain; Dr. Duke Han, associate professor of family medicine in the Keck School of Medicine at the University of South Carolina; and Dr. Meredith Kneavel, director of research and assessment for the Center for Concussion Education at Chestnut Hill College.
Through the research process, Price said he was grateful for the help of his committee chair, Dr. Jason Osher. Osher, Price explained, "was very helpful in his guidance and willingness to work on presentations and edit manuscripts." Osher is a William James College faculty member in both the Clinical Psychology department and the Organizational and Leadership Psychology department, as well as director of the neuropsychology concentration and co-director of the Center for Faculty Development.
According to Osher, neuropsychology is one of the fastest growing specialty areas within the field of psychology. "Opportunities abound in a variety of settings, including academic medical centers, rehabilitation hospitals, Veterans Affairs facilities, and private practice," he said. "Additionally, given the explosion of neuroscience into a wide spectrum of disciplines -- like business, organizational development, education, and law -- neuropsychologists are well-positioned to contribute their expertise in a number of fields."
Students in the William James College neuropsychology program have focused their research on topics like multicultural issues in assessment, development of cognitive rehabilitation programs, and issues related to technology and assessment. Osher called Price's doctoral project "ambitious and innovative," and called him "a trailblazer who has forged a number new paths and opportunities for many of his fellow students."
These "new paths" included Price being the first William James College student to complete a practicum at the Center for Translational Cognitive Neuroscience within the VA Boston Healthcare System, leading him to help shape the experience for future students. Additionally, working with Osher, Price developed an independent study on neuropathology after identifying the subject as one deserving of more attention in the curriculum at William James College. Osher said he is now using the materials from the independent study to develop a new course in neuropathology within the neuropsychology concentration.
The neuropsychology concentration is one of many concentration options within the Clinical Psychology PsyD program at William James College. It provides students with a breadth of experience, knowledge and skills to meet the demands of an exciting specialty area that focuses on the applied science of brain-behavior relationships. Utilizing thorough understanding of how various internal and external factors impact brain functioning, clinical neuropsychologists evaluate and treat individuals across the lifespan with a variety of known or suspected neurological, medical, neurodevelopmental, and psychiatric problems.
Price attended Keene State College in New Hampshire, where he majored in psychology and worked as a research assistant. He said he chose William James College to further his education based on a recommendation from William James College Alumnus Alex Young, who was Price's supervisor at a residential program for adolescent boys struggling with substance use disorders. "I respected Alex's guidance tremendously, so when he recommended WJC, the choice was easy," Price said.
Price will be spending his final year of training as an intern at the Penn Medicine Lancaster General Hospital in Lancaster, Pennsylvania. He said he hopes to return to the Boston-area for post-doctoral fellowship, and later teach neuropsychology while also maintaining his own practice.
Topics/Tags
Follow William James College
Media Contact
Katie O'Hare
Senior Director of Marketing