"Kneed" a break? Zoom Baking Activity Brings Staff Together for Socially Distanced Fun
By Staff Report
Oct 21, 2020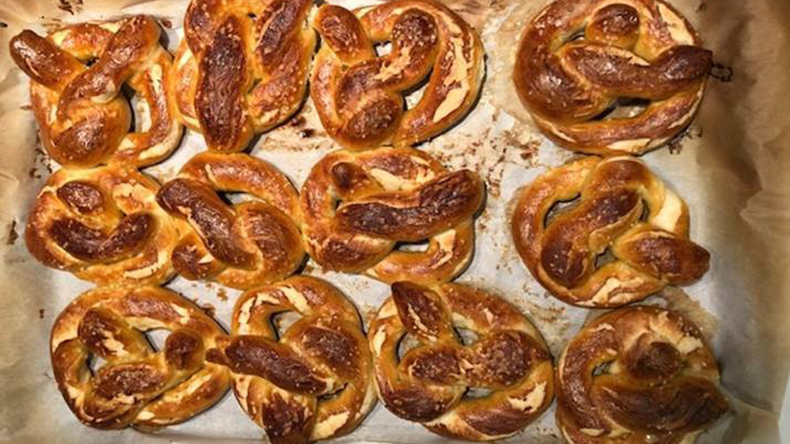 Creating fun, low stress opportunities for communities or workplace groups to connect offers big psychological benefits
Staff are back in the building a few days a week, and faculty and students are visiting campus occasionally for small, scheduled events or to use services like the library, but social distancing protocols mean all members of the William James community are finding other creative, ways to stay connected.
A recent event, led by Dean of Students Josh Cooper, brought people together to learn how to bake soft pretzels (or just watch, chat and hang out!). Events like this one, which offer fun, informal ways to connect in the current environment, have big psychological benefits, too.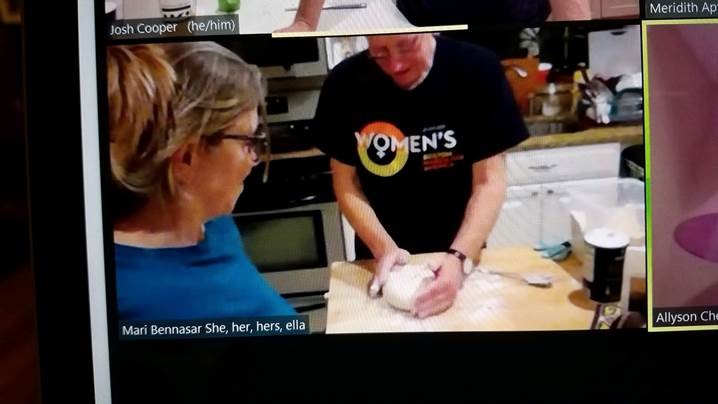 Dr. Nicholas Covino, president of William James College, recently wrote about care, for self and others, during this pandemic. "When relationships are strained or disconnected by COVID or any source, reducing isolation and increasing compassionate connections in our work and social worlds are key steps to managing the emotional fallout," he wrote.
Referencing the work of behaviorists Peter Lewinsohn and Neil Jacobson, Covino noted, "In what resembles a hydraulic model, [Lewinsohn and Jacobson] suggest that mood covaries with the ability of individuals to access what they experience as pleasurable. Change in this equation is influenced by a shortage of supply, the rate of reinforcement or a change in the individual's preferences – and it would not be difficult to create a long list of the rewarding experiences in our lives that have been rendered inaccessible by this pandemic. Improving mood requires self-reflection and, perhaps, some research to identify and engage more with appropriate pleasurable substitutes."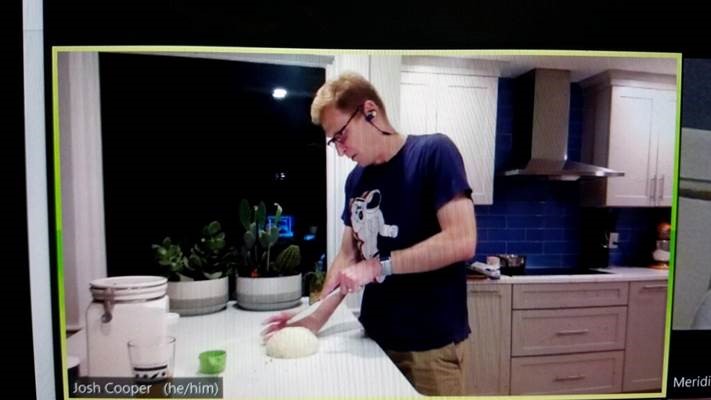 The College is hosting many opportunities for connection this fall, with small groups in person or via virtual channels. The Community Engagement Series, for example, invites community members to campus to attend "a wide range of fascinating presentations, on subjects topical, practical, academic, and just for fun," and more events like the pretzel baking activity are planned. In addition, some virtual events and lectures have been recorded and can be watched on the College's YouTube Channel.
Want to try the pretzels for yourself? They're "knot" hard to make -- dial up some friends on Zoom and try the recipe below!
Cooper's 'Knot'-Complicated Soft Pretzels
Ingredients
1 and 1/2 cups warm water (lukewarm, no need to take temperature)
1 packet active dry or instant yeast (2 and 1/4 teaspoons)
1 teaspoon salt
1 Tablespoon granulated sugar
3 and 3/4 – 4 and 1/2 cups all-purpose flour + more for work surface (or mix of whole wheat flour and all-purpose flour if you wish)
1 large egg, beaten
Baking soda
coarse sea salt, for sprinkling, if you want
Instructions
Preheat oven to 425°F. Line baking sheet with parchment paper or silicone baking mat. Set aside.
Dissolve yeast in warm water in a small bowl. Stir until fairly mixed, about 1 minute. Some clusters of yeast will remain, don't sweat it. Let sit.
Add salt and sugar in a large bowl; stir until fairly combined. Add the first cup of flour and mix. Now add in the water/yeast combo and mix well. Slowly add the next 2 cups of flour, 1 cup at a time, fully mixing between cups. Mix with a large spoon until dough is thick. Add 3/4 cup more flour until the dough is no longer sticky. If it is still sticky, add up to 1/2 cup more. Poke the dough with your finger – if it bounces back, it is ready to knead.
Turn the dough out onto a floured surface. Knead the dough for about 3 minutes and shape into a ball. The ball is going to be slightly different in size every time. With a sharp knife, cut ball of dough in half, then cut those in half. Size does not have to be exact; it will just be easier to work with as you start to roll out the dough.
Roll the dough into a rope with an even diameter. You can probably get each of these ropes to about 2 feet long, maybe more. Now it's all about how big you want the pretzels. I usually cut each rope into thirds and that means you'll end up with a dozen pretzels. You want bigger or smaller than go for it! Once you have your desired length for one pretzel, take the ends and draw them together so the dough forms a circle. Twist the ends, then bring them towards yourself and press them down into a pretzel shape.
This next step is optional, but I never skip it – it gives you that great pretzel tang and nice outer layer! Towards the end of your rolling, start a pot of water. Whisk 9 cups of water and 1/2 cup baking soda together. Bring to a boil. Place a pretzel onto a slotted spatula and dip into the boiling water for 20-30 seconds. Any more than that and your pretzels will have a metallic taste. The pretzel will float. Lift the pretzel out of the water and allow as much of the excess water to drip off. Place pretzel onto prepared baking sheet – I just put a piece of parchment on the counter. Repeat with the rest of the pretzels.
In a shallow bowl, beat the egg. Dunk the pretzel into the egg wash (both sides). Place on baking sheet and sprinkle with salt.
Bake for 10 minutes at 425°F. Turn the oven to broil and bake for 5 more minutes to brown the tops. Watch closely to avoid burning, you may need less than 5!
Allow to cool and enjoy. Serve warm or at room temperature. Pretzels may be stored in an airtight container or zipped top bag for up to 3 days (will lose softness).
Popular Topics/Tags

Follow William James College
Media Contact
Katie O'Hare
Senior Director of Marketing and Communications