Joseph D. Feaster, Jr., Esq., Announced as 2022 Commencement Speaker
By Anne Wilson, Director of Communications
May 23, 2022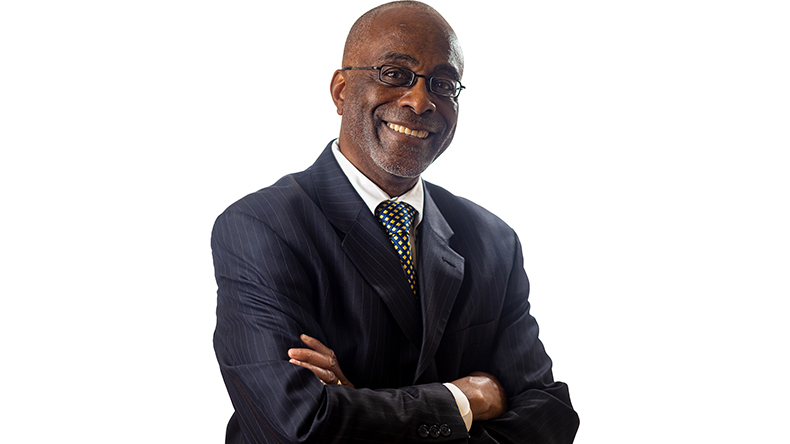 Honorary Degrees recognizing contributions to Mental Health Field will be Awarded to Feaster, MA Senate President Karen Spilka, and Photojournalist Mike Carroll. The College will hold in-person Commencement Exercises on Sunday, June 12, at the Boston Park Plaza Hotel.
William James College today announced Joseph D. Feaster, Jr., Esq., as the College's 2022 Commencement Speaker. Feaster will also be awarded an honorary doctorate of humane letters; the highest honor William James College bestows. Massachusetts Senate President Karen Spilka and Photojournalist Mike Carroll will also receive honorary degrees.
"This year's speaker and honorary degree recipients have very different professional and personal experiences and backgrounds, but they share a common interest in and a passion for advancing human rights and access to mental healthcare," said William James College President Nicholas Covino. "We recognize these individuals at Commencement and welcome the words of the Commencement Speaker each year as one last lecture for our students to demonstrate that one compassionate and committed person can change the lives of others. These days, our world needs us to celebrate and support such generous and humane individuals."
The William James College class of 2022 comprises 220 graduates. Students at William James College train for careers in education, human services, counseling and behavioral health, school psychology, clinical psychology, and leadership psychology. The College awards bachelor's, master's, specialist, and doctoral level degrees, and certificates in leadership and school climate.
About the Speaker and Honorees
Joseph D. Feaster, Jr., Esq., a practicing attorney for 45 years, has numerous professional and public service affiliations, past and present, including roles with the city governments of Boston and Stoughton; service to the Massachusetts Turnpike Authority, the Boston Housing Authority, and the Commonwealth's Executive Office of Administration and Finance; board membership for mental health organizations and community health centers; and leadership roles with the Boston Chapter of the NAACP, the Massachusetts AARP, and the Massachusetts League of Community Health Centers (MLCHC).
Advancing mental health and social justice are central to Joe's personal and professional life. Feaster serves as an executive committee member of the Massachusetts Association for Mental Health, Inc., co-chair of the My Brother's Keeper Boston Advisory Board, and he previously served as a board member of the National Alliance of Mental Illness of Boston (NAMI Boston).
Presently, Feaster is of-counsel at the law firm of Dain, Torpy, Le Ray, Wiest & Garner, and is the court-appointed Receiver for Roxbury Comprehensive Community Health Center.
A complete bio for Mr. Feaster is available on the Boston Mayor's Office website.
Senate President, Karen Spilka, who represents the MetroWest communities of the 2nd Middlesex and Norfolk district, has shown dedication to the advancement of progressive social causes. During her tenure in public service, Spilka, a former social worker, has championed issues such as mental health, juvenile justice, and services for the elderly and disabled communities. She was one of the first legislators in the nation to vote in favor of marriage equality and transgender protections, and her leadership during the COVID-19 eliminated barriers to care for patients, provided support for community hospitals, testing sites, medical staff, and telehealth services, and ensured expanded support for housing stability, food security, unemployment benefits and relief for the hospitality and restaurant industries at a time when other states were cutting funding for social safety nets.
Senator Spilka has been an advocate for student rights, women's rights, police reform, and climate change. She has also championed efforts to decrease the barriers to accessing quality mental health care, including advancing workforce development initiatives, and she introduced the concept of Intergenerational Care Centers to address the caregiving crisis in Massachusetts, provide support for women in the workforce, and encourage high quality caregiving for all residents, from infants to elders.
Photographer and Non-Profit Founder Michael Carroll was one of the first photographers to travel to Romania after the fall of the communist regime in 1989, where he encountered horrific scenes. His incredible photographs and heart wrenching stories of the pediatric AIDS epidemic in Romania ran in the Boston Globe and New York Times. Those images brought the plight of Romanian children to the western world. The twenty-year odyssey for Mike and his colleagues, as they fought to bring help to a population of children in need in a country that they hardly knew, followed, and changed the lives of over a hundred sixty thousand orphans, forever. His story is told in "Hand Held," a documentary that was produced and directed by two-time Academy Award®-nominated filmmaker Don Hahn. Following the release of the film, Fundatia Inocenti / Romanian Children's Relief (RCR), a foundation that supports Romanian children and families in need and works to prevent child abandonment, was founded. Inocenti has offered specialized professional therapy and services to children and families in need since 1990 and was formally incorporated as a Romanian charitable foundation, Fundatia Inocenti, in 1998. Today, Inocenti has three different types of programs in Romania – Child Life Hospital programs, Educational Support programs and Early Intervention, and serves thousands of children and families each year.
About William James College
Founded in 1974, William James College is an independent, non-profit institution and a leader in educating the next generation of behavioral health professionals to support the growing and diverse needs of the mental health workforce. Integrating field work with academics, the College prepares students for careers as organizational leaders and behavioral health professionals who are committed to helping the underserved, multicultural populations, children and families, and veterans. William James College alumni can be found making an impact in a variety of settings, including schools, the courts, clinical care facilities, hospitals, the community, and the workplace. To learn more about the College, please visit williamjames.edu.
High resolution photographs available.
Media Contact: Anne Wilson, director of communications, anne_wilson@williamjames.edu
Topics/Tags
Follow William James College
Media Contact
Katie O'Hare
Senior Director of Marketing