Alumni Spotlight: Paths Convergence in a Family Partnership
By Staff Report
Oct 20, 2020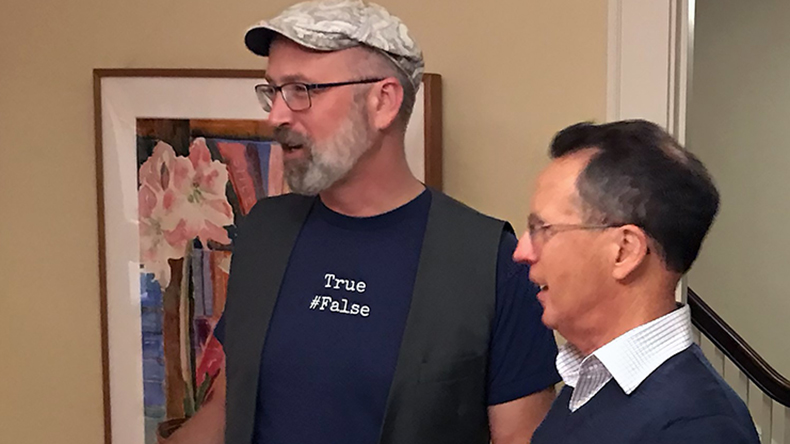 In this series, the William James College Office of Alumni Relations connects with William James Alumni to learn about where their career path is going -- or has taken them -- beyond their time at the College. Today, meet Dr. Charles Valentine and Dr. Jason McCormick, family members who are both WJC alumni and who have recently formed a professional alliance.
Dr. Charles Valentine and Dr. Jason McCormick, both alumni of the College, have known each other for more than two decades. Valentine is McCormick's father-in-law. Yet, despite the familial connection and the fact that both pursued clinical psychology doctoral degrees at the same institution at the same time, they've only recently created a professional alliance. The two recently hung shingles for individual, specialized practices in a shared office space in Needham, Massachusetts.
Valentine began his career as an engineer, a career where he collaborated with teams across the country, and internationally, and gained experiences that exposed him to cross-cultural issues and sparked an interest in organizational psychology. He said he realized that issues that impeded business were often related not to the products being produced, but to the people within an organization. After completing a master's degree in human resource and organizational development, a "deeper curiosity" about human functioning led him to William James College (then known as MSPP) and the Clinical PsyD program.
He said he chose the College because he was drawn to the experiential component and learning cohorts, and said he felt more invested in his learning as a returning student than he had as an undergraduate, speculating that the latter experience might have been more focused on obtaining the credential. His current work with clientele who have processing speed or attention issues is inspired and informed by his own challenges with workload in relearning how to be a student, he said. He credits the College with helping him build a solid foundation in psychology, even though he didn't know initially what form the structure might take.
He credits the clinical program with giving him the professional instruments that connected his pre-psychology professional experiences to explanations of behaviors. "I'm an engineer," says Valentine. "I love my tools." Today he practices electroencephalography (EEG) neurofeedback, which measures the brain's electrical activity through sensors placed on the scalp. Valentine says that neurofeedback examines the "multi-modal ways of people accessing their abilities…and allowing their brains to learn new patterns."
As Valentine was transitioning from his engineering career into psychology practice, his stepdaughter began dating the man who would become her husband—Jason McCormick. After graduating from the University of Wisconsin with a degree in psychology, McCormick spent two years working with an in-patient treatment facility for teenagers before deciding to pursue his doctoral degree. Valentine encouraged McCormick to consider the College and, after taking a couple of exploratory classes elsewhere, he enrolled.
During his first year, McCormick took a class with Dr. Sam Moncata, associate professor of Clinical Psychology. Moncata, McCormick said, brought testing to life for him, inspiring him to reconsider the way he viewed counseling work. "[He] brought me from someone who thought that testing was stale to someone who thought, 'I can't wait to do this for the rest of my life.'"
In testing, McCormick saw the satisfaction of immediate results and a chance to make patient recommendations right away. "[Testing] weaves together different aspects of brain function, from cognitive to academic to language processing, memory, executive function, visual/facial processing, social/emotional functioning," he explained.
McCormick works primarily with adolescents and young adults and the schools they attend, with a specialty in the transitional years of high school into college. He did his doctoral research on Asperger's and sense of humor and said he enjoys "working with kids for whom social communication doesn't come quite as easily."
A field placement at the Children's Evaluation Center, the first center in the Boston area to provide neuropsychology evaluations in a private rather than a hospital setting, was followed by employment at the college counseling center at Brandeis University. After Brandeis, McCormick worked as a senior clinician at Neuropsychology & Education Services for Children & Adolescents (NESCA), which is where he served until deciding to go into private practice.
As fate would have it, Valentine was also seeking a change. He and his wife Mary Beth Maisel—an educator and accomplished artist whose donated artwork graces several spaces at William James College—decided to downsize and leaving their large family home in Newton left Valentine without an in-home office space.
The result was Jason McCormick Neuropsychology and Valentine and Associates, independent operations in a shared office space in Needham – though operations of both practices were quickly halted when the pandemic forced what McCormick calls an "unplanned sabbatical." Both have taken time to carefully consider what reopening will look like in the age of COVID-19.
McCormick, who recently started seeing patients in person again, built a wood and plexiglass divider which, added to protection that the masks, COVID questionnaires, and temperature checks that he is employing provide, allows his testing process to remain intact. "Despite the fact that kids are used to being online, I just don't think it's the same," he said.
If you're a member of the William James College alumni community and you're interested in sharing your story, please email alumni@williamjames.edu.
Topics/Tags
Follow William James College
Media Contact
Katie O'Hare
Senior Director of Marketing