William James College Community, Friends Spend "An Evening with David Axelrod"In the Community
By Staff Report
Oct 18, 2019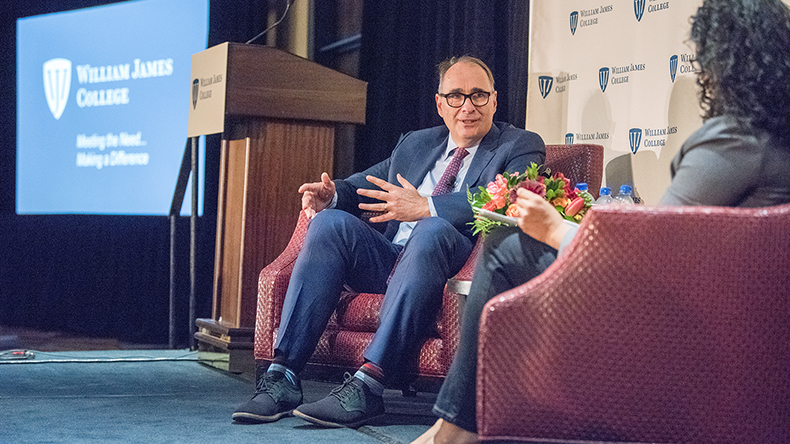 On the evening of October 17, David Axelrod, political strategist, commentator and former chief strategist and senior advisor to President Barack Obama sat with Meghna Chakrabarti, host of NPR and WBUR's On Point, for a conversation convened by William James College which explored current events in Washington, the politics of the moment, and broad themes around mental health.
David Axelrod is the brother of Joan Axelrod, a member of the William James College faculty and coordinator of the College's Academic Resource Center. Joan and David Axelrod lost their father to suicide when David was just 19 years old. Speaking at a reception prior to conversation on the main stage, David shared that he avoided talking about his father's death for many years. "I am deeply ashamed of that now," he said. "Because I realize it is that stigma that keeps people from getting the help that they need."
Mr. Axelrod said he believes mental health and mental illness need to be treated just like any other illness. "People who need help need to have the assurance that it's okay to reach out for help," he said, adding, "I try to talk about these things, because the more we have these conversations the better off people will be."
He added that people also need well-trained professionals who are sensitive to their needs, and he quipped, "I was asked to try to make sense of what's going on in politics – and I showed up anyway. That's how much I am committed to the cause here."
The reception and main event, which were held as a fundraiser to support the William James College Annual Fund for Student Scholarships, convened some 500 attendees and raised $100,000. The first scholarship to be given from that funding pool will be named in honor of Axelrod, in recognition of his advocacy for mental health.
"Accessible mental healthcare means having enough professionals to meet the need and that's what we're doing here tonight," said William James College President Nick Covino in his opening remarks for the evening. "Mental Illness is the most common cause of disability in the world, but 50 percent of the counties in the United States do not have even one mental health professional."
Axelrod currently serves as the founding director of the University of Chicago's non-partisan Institute of Politics and as a senior political commentator for CNN. He is the host of The Axe Files, a top-rated podcast featuring in-depth conversations with public figures across the political spectrum. In what Covino termed a "Reverse Axe Files" in his opening remarks, Chakrabarti asked Axelrod a series of questions, both of her own and from audience members.
Along with politics, stigma, accessibility and workforce development emerged as key themes in the conversation. In one question from an audience member, Axelrod was asked for his opinion about how to best facilitate a better and more accessible, quality mental health care system, especially for those of color and those who live in poverty.
"We have a shortage of mental health professionals, and increasingly a shortage of health professionals, and we need a national commitment to reverse that," Axelrod said, noting that this is especially true in communities of color. "I think that should be a priority of the next president, frankly, whichever party. This is an urgent, national need."
About politics and mental health, and in response to a question about what mental health professionals can do to advance the conversation in the political arena, Axelrod said, "Mental illness, like physical illness, doesn't choose a political party. It crosses many boundaries and we ought to form coalitions of people across political parties to put pressure on our government."
At the conclusion of the event, Covino awarded Axelrod the College's Mental Health Humanitarian Award in recognition of his work and advocacy. The plaque opened with a quote from the College's namesake, William James. It read, "The greatest use of life is to spend it for something that will outlast it."
William James College is committed to recruiting and training a diverse, culturally responsive behavioral health workforce to help ensure that care is available for all people. The evening, for many gathered, served as an introduction to the College's work to meet the needs of underserved populations and increase access to high-quality mental health care. Early in the night, Dr. Arlene Silva, chair of the School Psychology Department, introduced a video which provided an overview of this work. Watch it here.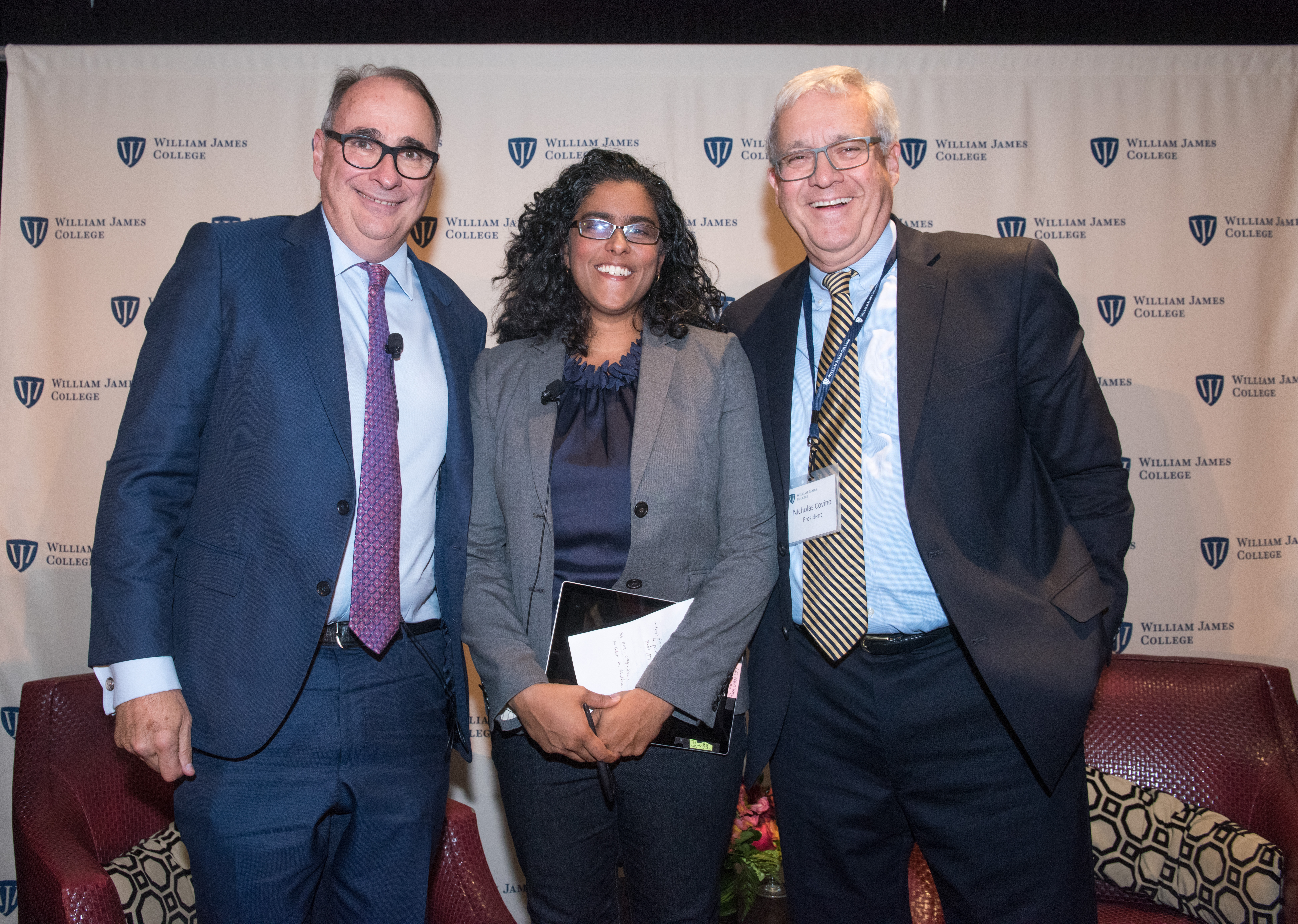 Photos: Joshua Touster
Topics/Tags
Follow William James College
Media Contact
Katie O'Hare
Senior Director of Marketing