Bi-Annual Global Mental Health Conference Envisions a Humanitarian Psychology
By Staff Report
Dec 10, 2019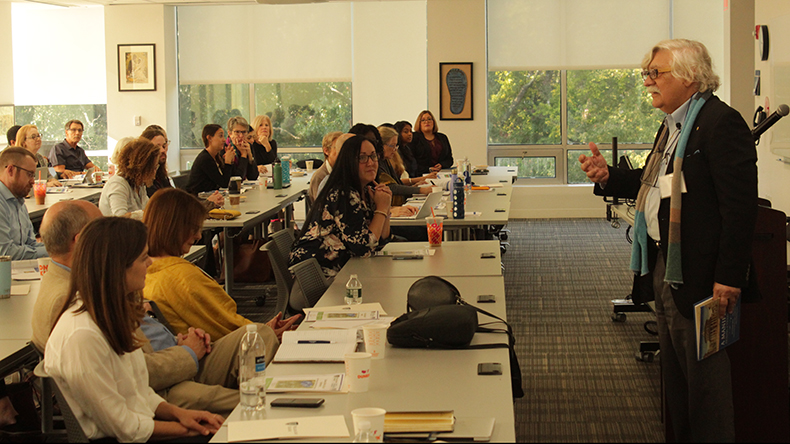 The world is facing the largest humanitarian crisis since the end of World War II. More than 20 million people are enduring starvation and famine, over 65 million people are displaced by war and persecution, and 14 million "climate refugees" are displaced by natural disasters each year. As a convener of thought leaders on important issues facing global populations, William James College hosted its bi-annual Global Mental Health Conference on September 21, 2019 with the focus on envisioning a humanitarian psychology.
The conference served as a call to action for psychology and global mental health to envision responses to global and local crises ranging from world violence to the spiraling impact of climate change. Approximately 50 people attended the conference, including William James College students and faculty, along with professionals interested in working with refugees, those who are involved in global work, those working internationally, political activists, and students from other schools.
"This conference was not just an acknowledgement of global issues, but a call to action," said Dr. Jill Betz Bloom, Ph.D., director of the Global Mental Health Concentration and coordinator of the Global Mental Health Conference. "I'm tired of talking. I've been talking forever, let's act."
The conference included a keynote presentation 'A Manifesto for Healing a Violent World' and two panels, 'Humanitarian Psychology in Action' and 'The Impact of Climate Change: Psychology's Role.' The day concluded with a panel and audience discussion, 'An Action Plan for Envisioning a Humanitarian Psychology.'
As a direct result of the conference, a group of students, faculty and staff organized a climate change initiative to raise awareness not just through information, but though action. For the spring 2020 semester, the group is currently planning a Brown Bag lunch discussion on the psychology of climate change; a screening of the film Necessity: Oil, Water & Climate Change with director, psychologist and film maker, Jan Haaken; and a clean-up of the conservatory land and trails surrounding campus. They are also discussing several other initiatives for the summer and fall semesters.
The group is comprised of Bloom; faculty members, Dr. Bob Childs and Dr. Emma Peterson; Director of Continuing and Community Education Dean Abby; Assistant Dean of Students Meridith Apfelbaum; and students, Tonya Grieb, Elana Bayer-Pacht, and Chris Mollica.
Bloom emphasized, "If we are going to address some of the global crises, it requires not sitting back and theorizing, but a change in modality that incorporates activism."
Popular Topics/Tags
Follow William James College
Media Contact
Katie O'Hare
Senior Director of Marketing and Communications