CMGMH Newsletter Feature: Ecuador Service Learning & Cultural Immersion Program
By Staff Report
Sep 20, 2019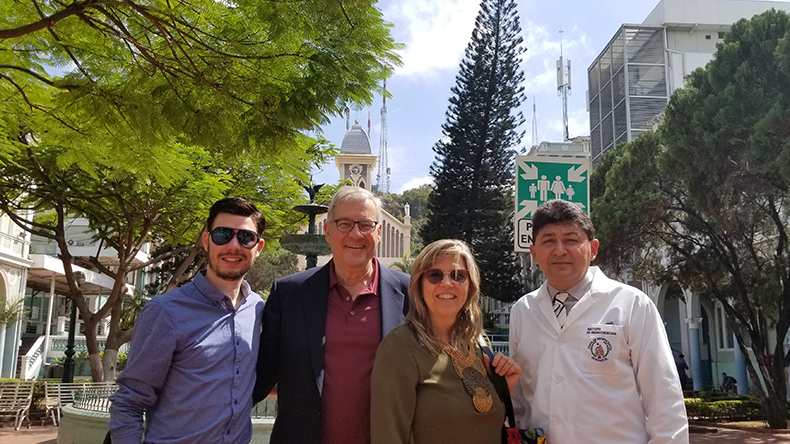 The "CMGMH Connection," a regular newsletter published by team members in the Center for Multicultural and Global Mental Health (CMGMH). The September/October Issue is out now, visit the CMGMH online newsletter archive for it and past issues. The article below is a highlight from the current issue.
Ecuador Service Learning & Cultural Immersion Program
In the summer of 2019, the Latino Mental Health Program (LMHP) engaged in a series of academic activities resulting from a year of collaboration with different institutions in Guayaquil, Ecuador in addition to its annual cultural immersion program. Seven LMHP students (Emily Crain, Rebecca Dotti, Karina Fundora, Gabrielle McPhee, Amanda Salerno, Brenna Shanahan, and Rosie Sandberg) had the experience of embarking on a 5-week immersion trip to Guayaquil. They were welcomed by the Luceros, Sr. Johnny Gonzalez (Director of Centro Ecuatoriano), Psic. Claudia Zambrano (supervising psychologist), and the host families.
As "psychology interns" at the Instituto de Neurociencias (INC), the students rotated through different sections of the hospital, including the partial hospitalization program, the Center for Social Integration, and a substance use unit for women. They worked closely with local psychologists and medical professionals where they had the opportunity to observe administration of neuropsychological batteries, individual and group psychotherapy, music therapy, family consultation, substance use counseling, and crisis intervention. They were able to enhance their clinical skills, understand the importance of providing culturallyappropriate interventions, and improve their linguistic abilities.
Additionally, William James College (WJC) co-hosted a two-day conference with La Junta de Beneficencia de Guayaquil that focused on the integration of mental health and medicine. The conference was held at the Dr. Roberto Gilbert Children's Hospital and at INC with more than 200 attendees each day.
WJC President Dr. Nicholas Covino opened the conference with a well-received presentation on models of integration. The team of presenters included Dr. Stanley Berman from WJC and Dr. Margarita Alegria, Dr. Irene Falgas-Bague, and Ms. Sheri Lapatin Markle from the Disparities Research Unit at Harvard Medical School.
Furthermore, Dr. Elana Wolkoff, Faculty in the School Psychology Program at WJC along with two student co-presenters, Rosie Sandberg and Karina Fundora, led an all-day workshop for parents at Fasinarm, a private non-profit foundation addressing the educational needs of children with cognitive disabilities. The workshop was held in Spanish at the vocational high school with more than 100 attendees.
Lastly, Dr. Mari Carmen Bennasar, Director of the LMHP engaged in two other activities: (1) a 3-hour workshop on Psychological First Aid delivered at the fire department in Guayaquil, and (2) a radio interview at TELERADIO on issues pertaining to individuals with cognitive limitations. The team is grateful to their hosts in Ecuador where they were welcomed with great warmth and felt well integrated into the local community!
Topics/Tags
Follow William James College
Media Contact
Katie O'Hare
Senior Director of Marketing