Clinical PsyD Student Commissioned into United States Navy
By Staff Report
Aug 15, 2019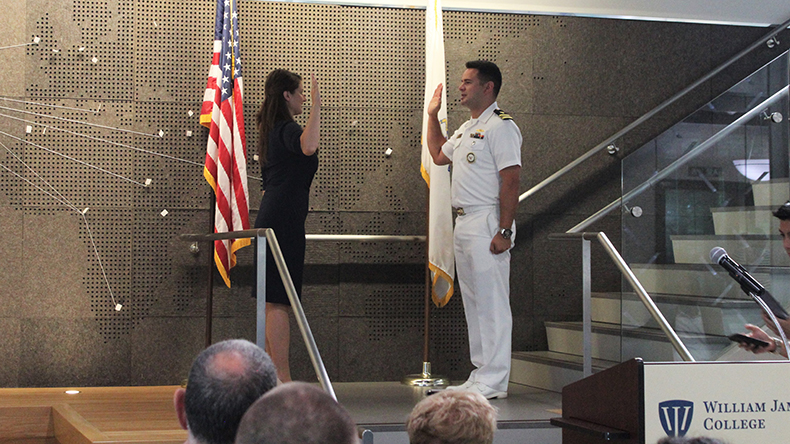 Kelly Main, a rising fifth-year student in the Clinical Psychology PsyD program, was commissioned into the United States Navy on July 12 in a ceremony held at the College. Main was sworn in by Lieutenant Commander Anthony Roa, who was joined by Chief Michael Abrajano from the U.S. Navy Recruiting District New England. She will join at the rank of Lieutenant and will be completing her APA internship next year, providing mental health treatment to active-duty service members, their families and veterans in San Diego.
Dr. Nicholas Covino, who provided an introduction prior to the official commissioning ceremony, spoke about the importance of bearing witness to pivotal moments in individuals' lives; moments during which individuals, like Main, dedicate themselves to something bigger than themselves.
Jenny D'Olympia, an Air Force Veteran and recent graduate of the Clinical Psychology PsyD program, then shared words of wisdom with Main and the audience about her own commissioning ceremony and experience in the Air Force. She highlighted the importance and need of mental health services in the United States military and applauded Kelly for rising to the occasion to meet this need.
Many friends and family members were in attendance at the Ceremony. Main thanked all of those in attendance and emphasized that her accomplishments were not hers alone. She attended Officer Development School (ODS) on August 11th in Newport, Rhode Island, and then drove across country to start her APA internship at the Naval Medical Center in San Diego.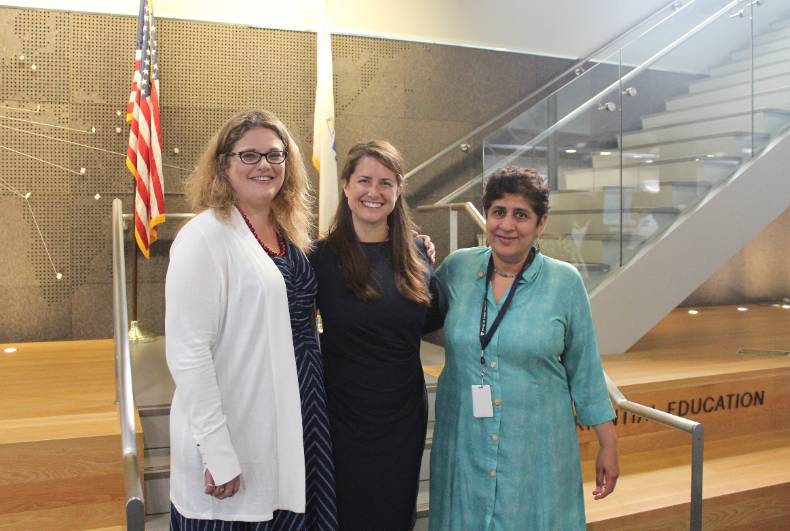 Newly-Comissioned Lt. Kelly Main (center) with Jenny D'Olympia (left) and Dr. Sonia Suri.
Popular Topics/Tags
Follow William James College
Media Contact
Katie O'Hare
Senior Director of Marketing and Communications