Dr. Bruce Ecker Named Massachusetts Psychological Association Teacher of the Year
By David Limm
Dec 9, 2020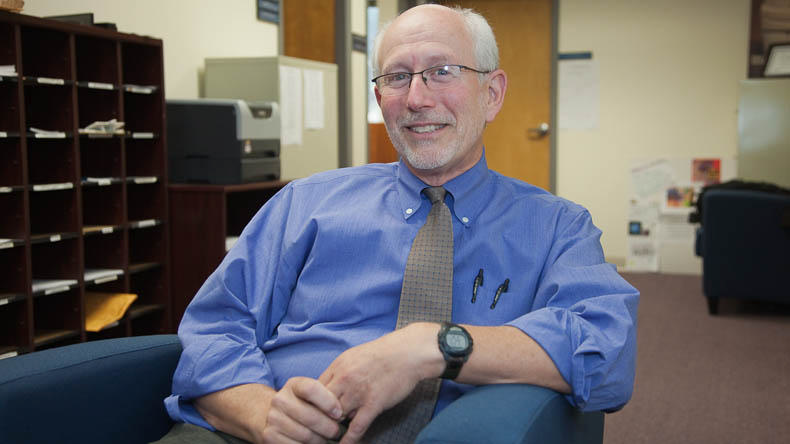 He's known as a mentor, challenging but supportive. He's known for his classes, which are interactive and empowering. Now, he's known as MPA teacher of the year.
Dr. Bruce Ecker, an associate professor of clinical psychology, has won the award from the Massachusetts Psychological Association (MPA) for his achievement in promoting student interest in psychology and developing effective teaching methods or courses.
"I have learned to teach with intention, always with a goal in mind: to value the full lives that my students live and to remember that we are all on a journey together," said Ecker, who also co-directs the Youth and Family Psychotherapy Service and is former director of the College's Children and Families of Adversity and Resilience (CFAR) Concentration.
Ecker has been treating children and families for over four decades, beginning his career as a school psychologist before earning a doctorate in clinical psychology. He came to William James in 2012 after a friend asked if he wanted to teach a course at the college. From there, one course became two, two became three, and three became a full-time appointment.
His students and colleagues described him as an educator par excellence, a teacher who inspires, pushes and supports his students through experiential learning and constant feedback.
This learning-by-doing approach in the classroom is beloved by students at William James, where combining rigorous academic instruction with clinical experience is a core value.
"He'll demonstrate through roleplay how to navigate through real-world interactions," said Erica Deshpande, an intern at the Youth and Family Psychotherapy Service who has taken multiple classes with Ecker. "He acknowledges how vulnerable it can be to do those kinds of things," she said.
Michelle Codner, a fifth-year student in the clinical psychology program said, "I've found myself using literally every skill that was taught in my placement."
That he treats each student as an individual is part of what makes Ecker an effective professor, according to Emma Peterson, his co-director at the Youth and Family Psychotherapy Service. "He puts so much effort into thinking about the training model, how people learn best. And he is always adapting."
Locating a student's educational sweet spot is central to Ecker's teaching philosophy. To facilitate his student's growth, he figures out what that person's skill level is. Then, he presents a learning experience just beyond their skill level.
As with the concept of the "zone of proximal development," developed by psychologist Lev Vygotsky, Ecker says his goal is to move both his students and himself from where they are to where they can be.
For Ecker, teaching is a recursive encounter, one where he affects students, and students affect him.
"It's this circle that keeps going around. When I do it well, it's always this circle."
The Massachusetts Psychological Association conference was held virtually this year. The ceremony where Ecker received his award was held on December 5. Dr. Rebecca Rosenblum, a 2003 graduate of the master's program in clinical pharmacology, was also recognized during the ceremony. She won the organization's first APA citizen psychologist award for her work with the therapy known as eye movement desensitization and reprocessing.
Topics/Tags
Follow William James College
Media Contact
Katie O'Hare
Senior Director of Marketing