William James College Celebrates the Legacy of Dr. Martin Luther King, Jr.In the Community
By Staff Report
Jan 17, 2020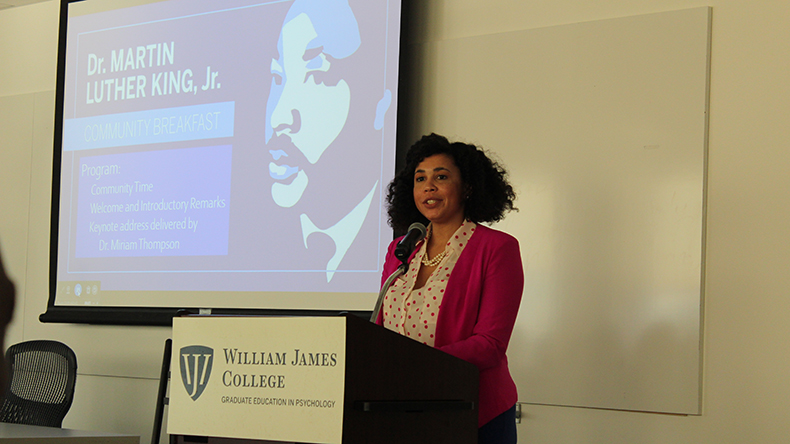 The William James College Community gathered together on the morning of January 17, 2020 to celebrate the life and legacy of Dr. Martin Luther King, Jr. School Psychology faculty member, Dr. Miriam Thompson, was tapped to give the keynote address for this year's event. Her speech follows here.
When I was asked to deliver the keynote address in commemoration of Dr. Martin Luther King Jr. for this morning's community breakfast, I asked myself the following question before committing to this honorable task: Could I deliver a meaningful address that would resonate with the William James College community in a way that evokes introspection and inspiration while upholding Dr. King's core values of education, love, equality, hope, nonviolence, and selflessness? Yes, I could, but I would have to submit myself to a journey deep personal reflection before I could consider writing this address to you all.
I consciously entered this journey of deep personal reflection a few weeks ago with the intention of focusing on how Dr. King has impacted my life. As a part of my personal reflection, I asked myself another question: "To what extent do I practice Dr. King's values of education, love, equality, hope, nonviolence, and selflessness?" I knew that a proper response to this question would have to extend well beyond the fact that I open doors for strangers; or that I liked a Facebook post in which an individual renounced racism; or that I retweeted company's commitment to eradicating poverty. Yes, opening doors for strangers, liking positive Facebook posts, and retweeting uplifting tweets sound nice, but they fall short of what Dr. King envisioned for us as human beings.
Education. Dr. King was a bright and gifted student. As a student enrolled at Booker T. Washington High School, he skipped the 9th and 12th grades. He began college at age 15. Later he earned two Bachelor's degrees and a Doctor of Philosophy. Clearly, Dr. King was unusually accomplished at such a young age, yet his philosophy of education was for it to be intentional, ethical, and meaningful. Dr. King believed that the purpose of education was to teach individuals how to engage in an intensive, repeated process of critical thinking. He argued that the combination of critical thinking and education was not enough; there must be morals to guide our practice, research, and instruction. In fact, he stated, "Education without morals is like a ship without a compass, merely wandering nowhere." As educators, we must hold ourselves and our students to this standard. We cannot afford to wander aimlessly.
Love. Dr. King stated, "I have decided to stick with love. Hate is too great a burden to bear." When I am wronged by someone, I am tempted to enter the recesses of my mind and start an imaginary verbal sparring match with said individual. In doing so, I lose all power and I waste finite resources such as time and energy. As individuals we will interact with people who will test our patience. We will interact people who will disrespect us. We will interact people who will belittle us. We will interact people who will make disparaging remarks about us. However, I challenge you and I challenge myself to love them as Dr. King would have wanted us to do. In fact, Dr. King stated, "Let no man pull you low enough to hate him." He also stated, "Another reason why we must love our enemies is that hate scars the soul and distorts the personality." We ought not to work in an environment and live in a society where our souls have become scarred and our personalities have become distorted.
Equality. "We may have all come on different ships, but we're in the same boat now." When Dr. King made this statement, he initially recognized our unique stories and individual histories; we all have interesting backgrounds, and yes, we should appreciate the differences which make us who we are. However, we must also call attention to the undeniable fact that race, the color of our skin, ethnicity, nationality, culture, religion, sexual orientation, socioeconomic status, age, gender, and other identity markers do not provide justification for discriminatory or differential treatment others. We deserve to be treated by the content of our character.
Hope. "We must accept the finite disappointment, but never lose the infinite hope." Disappointment will remain a constant in our lives. As I reflect upon the multiple failures and disappointments that I have endured in order to arrive at my current destination, I am reminded by the immensely greater, seemingly insurmountable challenges that Dr. King faced. Dr. King was arrested and jailed 29 times. On January 30, 1956, his family home was bombed. In 1958, one decade before he was assassinated, he miraculously survived an assassination attempt, in which a woman wielded a 7-inch blade into his chest, nearly puncturing his aorta. In spite of those horrific events, Dr. King's hope never wavered. He remained steadfast in his commitment to uphold the values of education, love, equality, hope, nonviolence, and selflessness. Indubitably, hard times are upon us, but we must not lose sight of hope as hope has the capacity to be our guide.
Nonviolence. "Nonviolence is a powerful and just weapon which cuts without wounding and ennobles the man who wields it. It is a sword that heals." Think about that for a moment: Nonviolence is a sword that heals. I am struck by that paradox. Although it is unlikely that you and I will use our fists to resolve conflicts, I do find that we are at risk for using our words to harm each other. At some point in our lives, we have misused our words to deeply wound someone. When we are angry, we have lashed out with foul, vitriolic statements that have resulted in pain which for some, lasts in perpetuity. How does this harmful approach facilitate resolution? We are perfectly adept at resolving conflicts without verbally wounding someone.
Selflessness. As mentioned moments ago by Gloria, Dr. King stated, "Life's most persistent and urgent question is, 'what are you doing for others?'" I now ask that question of each and every one of you as well as myself. What are you doing for others? Do you lead your life selfishly or selflessly? Are we more motivated to pursue self-serving interests or interests that are beneficial to all? Dr. King was selfless and his selflessness did not waver even though he was astutely and prophetically aware that the longevity of his life was limited. On April 3, 1968, in his "I've Been to the Mountaintop" address delivered at Bishop Charles MaSoN Temple in Memphis, Tennessee, Dr. King preached,
Like anybody, I would like to live a long life—longevity has its place. But I'm not concerned about that now. I just want to do God's will. And He's allowed me to go up to the mountain. And I've looked over, and I've seen the Promised Land. I may not get there with you. But I want you to know tonight, that we, as a people, will get to the Promised Land. And so I'm happy tonight; I'm not worried about anything; I'm not fearing any man.
The following day, April 4, 1968, Dr. King was assassinated. Although we can only aspire to approximate half the person Dr. King was, we can certainly embody facets of his character, such as his commitment to service; his volunteerism; his unconditional regard for people; his compassion; and his kindness.
The William James College community and President Covino are already putting Dr. King's values into practice. We are committed to providing mental health services to individuals from culturally, linguistically, racially and ethnically diverse backgrounds as well as those from military backgrounds.
Our mission is to integrate academic rigor with closely supervised field education, while monitoring professional development. We also assume continuous involvement in social responsibility, which is necessary in order to meet the changing mental health needs of our society.
As a final note, I am certain that Dr. King would agree with the following statement made by William James' who is the father of American Psychology and who serves as this institution's namesake: "Act as if what you do makes a difference. It does."
Thank you.
Popular Topics/Tags
Follow William James College
Media Contact
Katie O'Hare
Senior Director of Marketing and Communications