Freedman Center Collaborates with Communities on Suicide Prevention, Mental Health Promotion
By Staff Report
Sep 18, 2019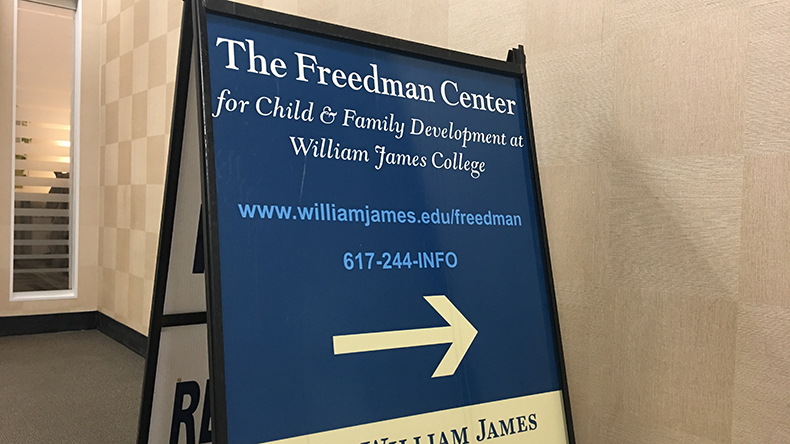 Every 40 seconds, someone loses their life to suicide. This global public health issue affects all populations, although some groups, such as Veterans or sexual minority youth, experience disproportionally high suicide ideation and behavior.
Every year on October 10, the World Federation for Mental Health (WFMH) celebrates World Mental Health Day to take action and create lasting change on various mental health topics. This year, the initiative is focused on "Mental Health Promotion and Suicide Prevention."
Preventing suicide is a community effort—one that requires collaboration across many groups and organizations. Dr. Nadja Reilly, associate director of Freedman Center for Child and Family Development, explained, "I've always believed in a public health approach to this. That you can't just let it be taken care of in the context of individual therapy. We really need to broaden people's awareness, create spaces of safety and support, and provide programs that will allow greater access to help."
The Richard I. and Joan L. Freedman Center for Child and Family Development offers many services to create a strong community of support to promote mental health and wellness. One of the Freedman Center's initiatives, the William James College INTERFACE® Referral Service, aims to improve access to mental health services, including a helpline that connects families with mental health providers. In addition, Margaret Hannah, the executive director of the Freedman Center, serves as a Governor-appointed Commissioner on the Commonwealth's Commission on Community Behavioral Health Promotion and Prevention.
With the aim of promotion and prevention work in the community, The Freedman Center offers community education programs, including hosting on-campus workshops and sending trained professionals to speak to and work within communities on topics such as building resilience, coping and stress management, bullying, anxiety, depression and suicide. Recently, Reilly traveled to Medfield, Mass. to work with the town's Suicide Prevention Coalition to educate additional stakeholders in the community on ways to promote mental wellness in youth. Specifically, the Coalition wanted to target the faith-based community.
"The program was targeted to help parents understand their role in promoting mental wellness and how the involvement of kids within the interfaith community could be impactful," said Reilly. "We talked about how even though the name of the coalition is the 'Suicide Prevention Coalition,' we really wanted to target this from a mental health promotion and prevention approach, meaning, not waiting until kids were in acute distress, but really figuring out ways to promote daily mental health and wellness and resilience."
Reilly has been involved in community work for much of her career. Before coming to William James College, Reilly served as Director of the Swensrud Depression Prevention Initiative at Boston Children's Hospital.
"I started working with a lot of communities around their programming, and specifically working with the interfaith community, because the mental health community was trying to follow a more public health approach," said Reilly. "They were really trying to widen the nets of who could serve as people of support and people who were educated on the topics."
Previously, Reilly worked with the interfaith community in Wellesley, Mass. after a series of completed suicides. "It really sent the whole community into a tailspin," said Reilly, "They didn't know how to talk about it or what to do about it."
Collaborating with parents and students in the community, Reilly developed Interfaith Teens Gathering 'Round Our Wellness (iGROW), a peer leadership program aimed at increasing knowledge and awareness around depression, risk-factors for suicide and the stigma surrounding mental health.
"I love working with adolescents who are actively seeking out opportunities to have meaningful conversations around mental health and wellness," said Reilly. One of the students involved with her work in Wellesley, Dan Dymecki, is now a first-year clinical psychology student at William James College. Reilly called Dymecki "integral" in helping facilitate the program and getting people involved.
"I think it's really important to keep conversations open and educate people that can actually provide help," said Dymecki. "Talking about [mental health], making people aware of it, educating people on it is important, not only for the youth and parents or caretakers, but also people in leadership positions in the community."
Despite having a large role in mental health and wellness promotion while in high school, it wasn't until Dymecki began a job in an adolescent unit at McLean Hospital (a psychiatric hospital in Belmont, Mass.) that he considered psychology as a career path. "It just clicked," said Dymecki.
William James College aims to not only educate thoughtful and effective professionals, but also to create programs and services to meet the evolving mental health needs of our global society, one being suicide prevention.
Dr. Natalie Cort, assistant professor of clinical psychology and core faculty in the Center for Multicultural and Global Mental Health and the Concentration on Children and Families of Adversity and Resilience, traveled to Guyana in July to facilitate a two-day suicide prevention gatekeeper training workshop.
Additionally, the Continuing Education department at William James College is holding a Suicide Assessment and Intervention Training for Mental Health Professionals event on October 26. This training focuses on suicide risk assessment and crisis intervention with the goal of increasing practitioners' knowledge, confidence, and competencies in managing suicide risk.
"We need to, in as many ways as we can, create pockets of safe spaces where kids can come and talk about mental health," said Reilly. "If we provide them with opportunities to practice what these mental health promotion and prevention skills look like, to see what seeking help for self or others really means, to get help figuring out some of these emotional concerns, then that all acts as prevention."
The National Suicide Prevention Lifeline is free and confidential. Call 1-800-273-TALK (1-800-273-8255) or use the online Lifeline Crisis Chat. For more information, visit the National Suicide Prevention Lifeline website.
Topics/Tags
Follow William James College
Media Contact
Katie O'Hare
Senior Director of Marketing