Game Changer: Facilitator's Guide Written by Leadership PsyD Student Reveals Hidden Biases Through Game Play
By Staff Report
Sep 3, 2019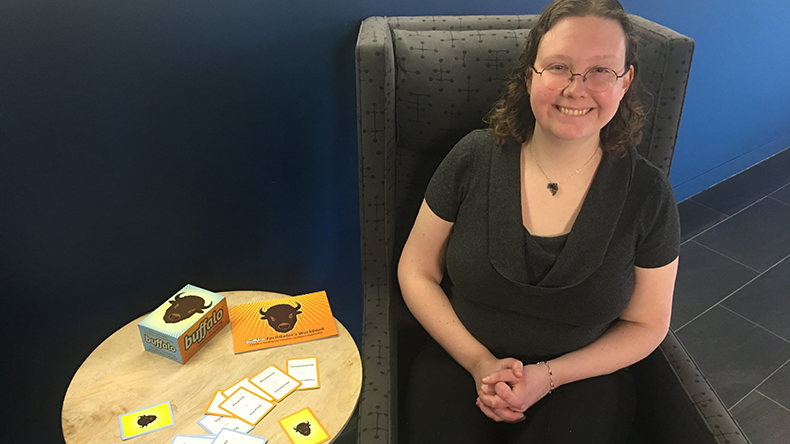 Implicit bias refers to the attitudes or stereotypes that unconsciously affect a person's understanding, actions, and decisions. Kristen Toohill, a second-year Leadership PsyD student who is interested in organizational development and games—both in using games in the workplace and in bringing better practices to working environments in the game industry—recently completed a practicum which combined her interests and took aim at reducing implicit bias through game play.
"It can be difficult to talk about bias, especially implicit biases – and everyone has them, you don't get a pass on that," said Toohill. "This is a big topic for organizations. Sitting down and engaging in conversations through play creates a safe space, which can lead to change."
Through her practicum, Toohill created a guide for facilitators which turns Buffalo: The Name Dropping Game into a workshop that organizations can use to facilitate difficult conversations. Toohill's book, Buffalo Facilitator's Workbook: A Guide to Leading Conversations to Reduce Implicit Bias combines scientific explanations with informed discussion questions to teach participants about implicit bias and reactance (a pattern of behaviors that occur when an individual feels their freedoms are being taken away or restricted). It also illustrates ways in which playing games can increase the ability to think systematically. Facilitators can use the game as an icebreaker, without players knowing they're already engaged in learning, then bring the workbook in during debriefing and processing activities. The book debuted on Amazon earlier this year.
Buffalo, which was first introduced in 2012, was created as part of a National Science Foundation (NSF)-funded project to combat bias in science fields, is designed to "foster a sense of open mindedness through play," and has been shown to decrease players' prejudices in randomized trials. It was intentionally developed and released as a party game with no explanation about how playing it can lead to reduction in implicit bias.
"It's less effective if people begin playing the game knowing that it's being played to reduce bias," Toohill said, but that's exactly what the game can do by subtly challenging players to think beyond stereotypes to come up with answers.
She heard about Buffalo through a story produced by the NPR Code Switch team and sought out a practicum with Tiltfactor Laboratory, a game research center led by Dr. Mary Flanagan and located at Dartmouth College in Hanover, New Hampshire, to complete the workbook.
Dr. Aprille Young, who was Toohill's professor for this practicum, said she was impressed that Toohill took the initiative to find this practicum. "She has a niche area of interest, and this work allowed her to explore exactly what she wanted to do," Young said. Young added that she was impressed not only with Toohill's work, but also that the final product is something so tangible. Young said she plans to use the guide in her own classes going forward.
The integration of coursework with field experience is an institutional hallmark for William James College. Practicum and internship work experiences are an essential aspect of the PsyD curriculum. Dr. Suzanne Devlin, assistant director of the Leadership Psychology program, said the team is very good at finding and tailoring practicum experiences to students' interests.
"Every single field placement is crafted differently, depending on what the client's needs are," said Devlin. "By the time a student finishes [the Leadership PsyD program], they've had 900 hours of experience in as many as 6 different sites. It's very personalized, it meets students' interests, and it is also a great service to the community."
In the last year, OLP students have conducted work in settings ranging from changing culture in police departments, to conducting training in resiliency with hospital workers in high stress situations, to working in financial firms. "One of the things that makes our field unique, is that we're such an interdisciplinary field that we can branch many arenas at once," Young said.
In addition to learning in their practicum sites, students learn from and coach one another. As Toohill's guide was being developed, she tested her guidebook in Young's class using classmates as shadow consultants on the project. Shadow consulting, or peer supervision, is a process through which colleagues give advice, "so you don't become entrenched or influenced by your own biases," Young explained. The practice is incorporated into every student's practicum in Leadership Psychology, and it is also encouraged as a best practice for professionals.
"Once you have your degree, if you're in the field with a client, we suggest you have a group of colleagues that you can use as shadow consultants so that you're not trapped by your own biases, or if you need a second opinion, or just to ensure that you're not blind to something," Young said.
Back in the classroom, Toohill said the feedback from classmates was invaluable to her, using a term from the game industry to describe the process. "In game parlance, I 'play tested it' with my classmates," she said. Fellow Leadership PsyD student Terrence Williams was among those classmates.
Williams, who is vice president of human resources at Community FoodBank of New Jersey, said his primary research focus is on the "inclusion side of diversity and inclusion," commonly called D&I, and he thinks Toohill is "on to something" with her work.
"What diversity practitioners tend to fail to realize is that the mere presence of diverse participants in a group automatically changes the environment and the interactions," Williams said. "Kristen's approach is disarming, in a good way. You not only get good data, but perhaps better data than a D&I survey or a training course could offer."
Ultimately, Toohill said she hopes the guidebook will be used as a replacement for traditional training methods. "I hope this replaces PowerPoints on bias and that more organizations start to use interesting, engaging and fun ways to learn and talk about difficult material," she said.
Toohill's current practicum is with Revelian, an Australian-based company specializing in data-driven human behavior insights, on an industry placement focused on game-based assessment development. Her practicum is with the Research and Development team at Revelian and is focused on developing and innovating ways of engaging test-takers in game-like environments which also provide for robust and reliable assessment of specific abilities.
Topics/Tags
Follow William James College
Media Contact
Katie O'Hare
Senior Director of Marketing