William James College Graduate Welcomes Baby Days After Commencement Ceremony
By Staff Report
Jun 18, 2019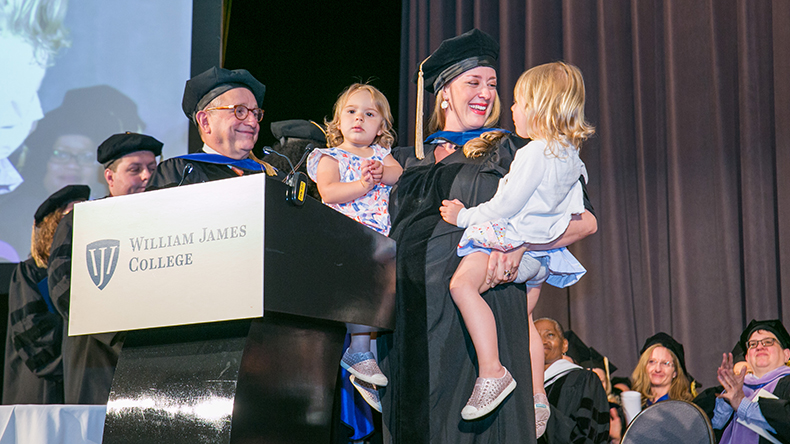 Eden Davies awoke on June 1 unsure if she would make it to the William James College commencement ceremony. Davies, who was to receive her doctoral degree in Clinical Psychology, was pregnant with her third child and had been experiencing pre-labor contractions. She did go, but in what she called her "recurring Freudian nightmare," she said she began to experience more contractions as the commencement ceremony began.
"Unfortunately, I missed most of the speeches as I was pacing around in a service room behind the stage," she said. She stayed in touch with commencement staff and, ultimately, elected to go to the stage to receive her degree early. "Believe it or not, I actually tried to wait my turn," she said, "but a friend alerted the staff so that I could hop the line with my family!"
Children of William James College graduates are welcome on the stage with their parents during the ceremony. Davies was accompanied to the stage by her husband Joe and daughters, Seraphina, 3, and Dahlia, 22 months. Her daughters joined her on stage, a moment Davies said she had been looking forward to.
"I wanted to be there to bring them on stage. Even though I was crying through pain, even though I knew they would not fully understand the moment, I wanted them to see and feel it," she said. "I wanted them to look out over the crowd, with their mother holding them high, and to tell them exactly as I did- that they are strong, and they can do anything."
Davies said she hopes the moment will also have meaning for her daughters. "Having daughters in this social and political climate has made me all the more cognizant of the need to not just encourage, but to live the example I want to set for them," she said. "I hope that when they face adversity in the future, and they will, that they can look back on that moment and draw strength."
Davies left the stage to head for the hospital, which William James College President Nicholas Covino called "a first" for the institution.
It took "a grueling additional 2 days of contractions and false starts, and another day of labor," before Aurora Claire Davies was born. Aurora Claire arrived at 9:02 am on June 4th, weighing 8 pounds, 13 ounces, and measuring 21 inches long.
Dr. Davies' older daughters were also born during her time as a student at William James College. She earned her MA/CAGS in School Psychology before going on to earn her PsyD in Clinical Psychology and wrote her doctoral project on the experiences of first-time parents in graduate programs and on how many programs in Boston fail to support student parents, especially mothers.
"I was so encouraged to see so many other student parents with their children at commencement…" she said. "I still believe that graduate school can be a wonderful time to start a family, but we need structural and societal reform and policy supports to make it more feasible. I hope that my example of struggle and success causes the institutions of higher education to evaluate their practices regarding students having families, and how doing so can not only strengthen the individuals and their academic programs, but society at large."
Mom, baby and family are happy and healthy, and looking forward to a restful summer.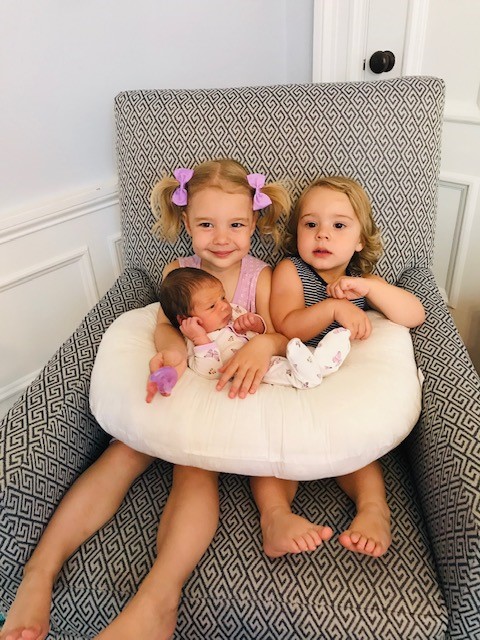 Topics/Tags
Follow William James College
Media Contact
Katie O'Hare
Senior Director of Marketing