HRSA Holds Behavioral Health Workforce Development Conference at William James College
By Staff Report
May 9, 2019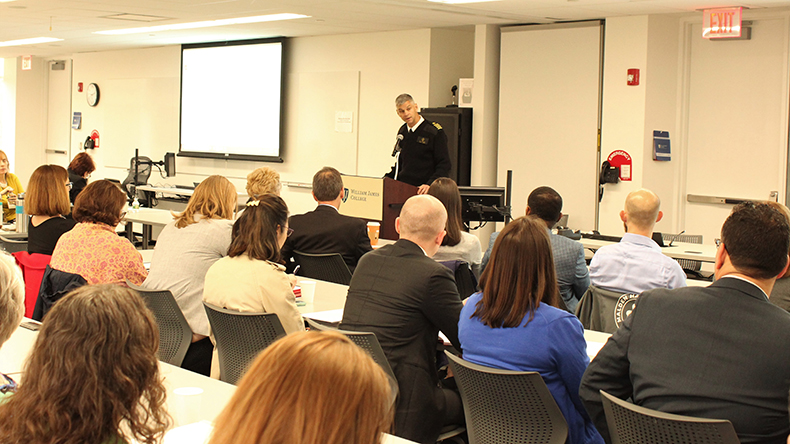 On Friday May 3, the Health Resources and Services Administration (HRSA) convened leaders in the behavioral health field at William James College to discuss issues and develop ways to build and strengthen the workforce. During the conference, which was titled 'Help Wanted: Preparing and Strengthening the Behavioral Health Workforce,' attendees drafted an action plan prioritizing efforts to meet mental health and substance use disorder needs and retain an effective and collaborative workforce.
"Eight months ago, we decided that workforce in the field of behavioral health, including substance abuse disorders, was going to be a priority in 2019," said Capt. Christopher Bersani, PsyD, deputy regional administration for region 1 of HRSA, in his opening remarks. "Massachusetts and the leaders within the Commonwealth, you were selected as champions that, with collaboration, commitment and specified goals, can continue to move the dial on this challenging but not insurmountable issue."
The conference included presentations from Dr. Michael Hoge of Yale University School of Medicine; Nancy Paull, CEO of Stanley Street Treatment and Resources, Inc. (SSTAR); Jennifer James, Massachusetts undersecretary for workforce development; and John Monahan, MD, from the Boston Consulting Group.
Both Monica Bharel, commissioner of the Massachusetts Department of Public Health, and Joan Mikula, commissioner of the Massachusetts Department of Mental Health, delivered calls-to-action on the importance of an effective behavioral health workforce.
During the conference, attendees broke into two focus groups. One group, led by William James College President Nicholas Covino and Linda Cragin, director of the Massachusetts Area Health Education Center (MassAHEC) Network, discussed preparing the behavioral health workforce to meet mental health and substance use disorder needs through pre-service preparation.
The second focus group, led by Vice President of Professional Development and Member Advancement of the Massachusetts League of Community Health Centers Deborah Murphy and Senior Director of Public Policy and Research at the Association for Behavioral Healthcare Amanda Gilman, discussed identifying and promoting organizational strategies to attract and retain the behavioral health workforce, particularly early career professionals.
HRSA is an agency of the U.S Department of Health and Human Services dedicated to improving healthcare for disadvantaged groups. Its mission is "to improve health outcomes and address health disparities through access to quality services, a skilled health workforce, and innovative, high-value programs."
Topics/Tags
Follow William James College
Media Contact
Katie O'Hare
Senior Director of Marketing