Helping Children Manage Stress and Anxiety in the time of COVID-19
By Staff Report
Mar 18, 2020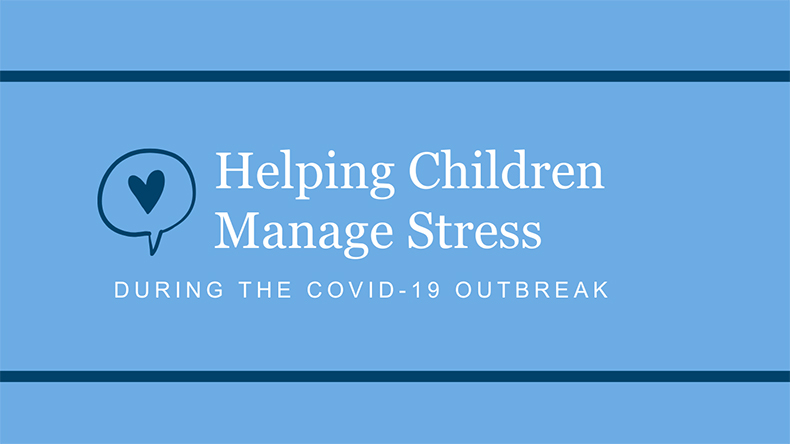 Managing stress and anxiety and maintaining mental well-being during the Coronavirus/COVID-19 outbreak can be challenging. William James Faculty offer suggestions.
Parents and families have quickly had to shift routines amid the COVID-19/coronavirus outbreak, which can be stressful not only for adults, but also for children who might not have a full understanding of the situation. It can be difficult to simultaneously manage personal anxiety and your child's worries, but there are many resources that can help families with every aspect of this unique situation.
Dr. Julie Ryan, director of the Children and Families of Adversity and Resilience concentration and associate professor of clinical psychology, explained, "The loss of routine, and the lack of socialization with peers are the toughest part for most kids—especially for younger children who do not use technology to connect with friends."
Ryan and Dr. Bruce Ecker, associate professor of clinical psychology and co-director of the Youth and Family Psychotherapy Service, offered some advice for helping children manage with stress and anxiety during this time.
Talk to Your Children, Consistently
It is important to discuss the situation with children at an age-appropriate level. Keeping your child or adolescent consistently informed about what COVID-19 is, what steps the family is taking to be safe and what the child can do themselves to be responsible provides a realistic picture of the situation and can help quell fears.
"When talking with your child, be open to talk about any fears and reassure realistically. Don't erase the risk [of COVID-19] and do emphasize what the family can do to help," Ecker said.
He also emphasized the importance of accepting whatever emotions your child is experiencing and being open to suggestions for change. "For many, this is a hard time, with disrupted routines, the absence of friends, and the absence of the stimulation and structure of school," said Ecker.
Keep a Daily Routine
Keeping to a consistent schedule provides stability during a time with a lot of uncertainty. "Families that can maintain routine, even if it is a slightly adjusted routine from the typical one, will help kids (and parents) feel calmer and less stressed, and they will sleep better," said Ryan.
Ryan and Ecker suggested several techniques to help maintain a schedule including setting a wake-up time that is followed with routine morning activities like getting dressed and brushing teeth; eating meals at similar times; scheduling activities during the day; and keeping a consistent bedtime and wind-down routine.
Ryan also emphasized the difference between having school-aged or younger children. "If children are doing school online, this may be enough to focus on," said Ryan. "For kids who are not in school or the school is not yet requiring anything, setting a daily schedule that includes time for quiet activities like reading or coloring, and time for physical activity (indoors or outdoors) and allowing for a limited amount of screen time."
Manage the Shared Space
During this time, parents and children may have to use same area for work, school and play. Ecker suggests people, "Be pragmatic about the fact that kid(s) and parent(s) will be in the same space for long periods of time."
He suggested setting aside time for the parent to spend with the children and setting aside time for everyone to be alone. Additionally, because conflicts can easily arise in these situations, Ecker advised to expect those and come up with a plan for "how to navigate that as productively as possible."
Take Advantage of the Increased Family Time
Most importantly, remember that despite the stress and uncertainty, the closure of schools and businesses (or transition to remote work) is giving the family an opportunity to spend more time together.
Ecker suggested, "See if you can think of this, at least in part, as an opportunity to become closer and appreciate your kids. Play! Talk! Show them all the love that you have."
William James College has created an Resource Hub to provides information, tools and resources to help parents, educators, mental health professionals and other members of the community on a variety of topics during this time. Find a collection of Parenting Resources among these pages.
Topics/Tags
Follow William James College
Media Contact
Katie O'Hare
Senior Director of Marketing