Joint Statement Condemning Hate Crimes Against Asian Americans
By Staff Report
Feb 24, 2021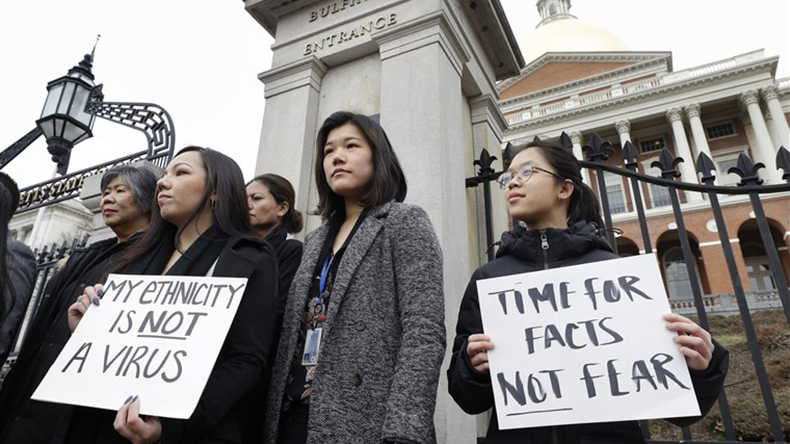 The College's Asian Mental Health Program this week co-signed a statement with AWARE lab (Boston University School of Social Work) and the Massachusetts General Hospital (MGH) Center for Cross-Cultural Student Emotional Wellness (CCCSEW) condemning hatred, violence, and racism against Asians and Asian Americans. The statement is published below in its entirety. William James College stands with the calls to action expressed here.
A Statement on Hate Crimes Against Asian Americans
We, as Asian American scholars and physicians, are outraged and share enormous pain, sorrow, and concern about the increasing hate crimes and violence against Asians. We unequivocally condemn hatred, violence, and racism, which have soared during the COVID-19 pandemic .
Since the outbreak of COVID-19, Asians worldwide have been the subjects of dehumanization: slurs and jokes related to their race or ethnicity, references to the "Chinese virus" or "Kung Flu" by the Trump administration, verbal harassment, shunning, spitting, physical assaults, and workplace discrimination.
The ever-increasing hate crimes against Asian Americans' lives have provoked a sense of fear and terror in the community. No one should be victim to senseless physical attacks or have to fear for their safety or the safety of their loved ones. As mental health clinicians and researchers, we know that racism is harmful for health and mental health, now and into the future.
We must not treat these acts of violence as individual crimes alone. Rather, we need to address racism against people of color, the very fabric of our nation. We have witnessed over and over again that Asians are excluded from the racial discourse, leaving our community to often feel ignored and isolated from other communities of color in greater discussions around racial justice and equity.
Asians have suffered in various ways from being categorized as the "model minority," including inequity in accessing resources. For instance, for the last 26 years (1992-2018), NIH spent only 0.17% of the total budget for clinical research on AA/Native Hawaiian/Pacific Islander. Asians often encounter a "bamboo ceiling," facing barriers to positions of power in the workplace based on biases and subjective factors such as reported lack of leadership potential and lack of communication skills.
Like other immigrants, Asians come to this country to pursue freedom, equal opportunity, and a greater quality of life. We, as much as any other community, deserve these basic human rights.
We demand that the violence against Asians be recognized, taken seriously, and those who have committed violent acts be brought to justice.
We demand the opportunity to educate the public on the richness and complexity of Asian history and current lived realities.
We demand that more resources be allocated to conduct research on Asian health to improve the health of the population.
We demand that Asians be treated as equals, and as all humans deserve to be treated, with compassion, dignity, and respect.
In solidarity,
AWARE lab, Boston University, School of Social Work
Massachusetts General Hospital (MGH) Center for Cross-Cultural Student Emotional Wellness (CCCSEW)
William James College, Asian Mental Health Program
Topics/Tags
Follow William James College
Media Contact
Katie O'Hare
Senior Director of Marketing