Lunar New Year Celebration Ushers In "The Year of the Rat," and a New Concentration in Asian Mental Health
By Staff Report
Feb 4, 2020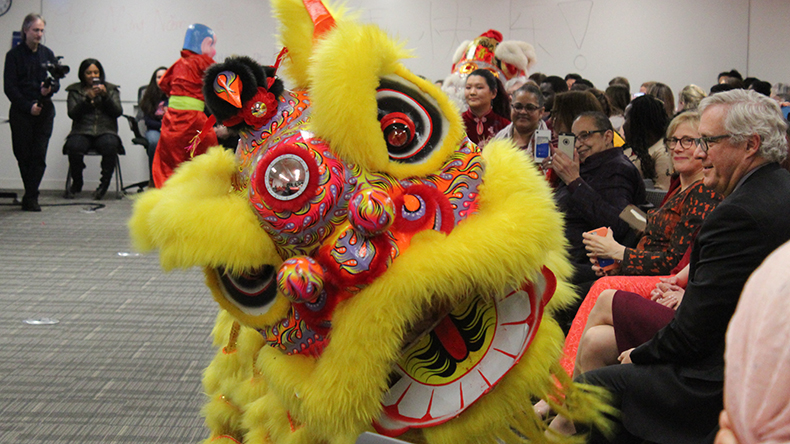 The Lunar New Year officially arrived on Saturday, January 25, marking the beginning of the Year of the Rat in the Chinese zodiac cycle. The annual festival, which is celebrated by millions of people around the world, is an important time for Korean, Chinese, and Vietnamese communities. The festival extends this year through February 8. William James College held a multicultural celebration on Wednesday, January 29, to mark the occasion.
The celebration featured Lion Dancers from the Boston Chinese Freemasons Athletic Club, a keynote speech about traditions surrounding the Lunar New Year by Renne Lu, director of the Greater Boston Chinese Cultural Association, a live calligraphy performance by artist Quanzhou (Jack) Zhao, and speeches by William James College Community members, including President Nick Covino, faculty member Dr. Catherine Vuky, and students Lan Ho, Ellen Yang, and Thanh Phan. The event also served as an opportunity to announce the launch of the College's newest academic concentration in Asian Mental Health, which is directed by Dr. Vuky.
"When Dr. Vuky invited me to this event as a guest speaker, I agreed right away without much hesitation," said Lu. "For one thing, I enjoy sharing our culture with people and for another important reason, I think Asian Mental Health has been neglected for a long time. I am so pleased to see the inauguration of this program focused on Asian Mental Health."
Asians are the fastest growing racial minority group in the United States but, as with other minority groups, the number of behavioral health providers with culturally responsive training hasn't kept pace. This creates significant barriers in access to and utilization of mental health services.
"I came to William James College in 2014, teaching one course in the theory of child and family systems," Vuky shared in her opening remarks. She added that she'd worked in a community health center for twenty years where some 98 percent of the client population spoke Chinese only. She said when she shared cases in class, she received feedback from students who were grateful for access to the topic because, at the time, there were no courses offered on the topic at the College.
Vuky and other speakers noted that, as our society becomes increasingly diverse, there is a growing need to recruit and train mental health professionals who possess the knowledge and required skills to meet the mental health needs of culturally diverse individuals, families and communities.
"We know that there are far too few mental health professionals to be able to meet the needs of any community," said President Covino. "Even in Massachusetts, which is one of the best staffed states for mental health care, more than half of the time you can't find it. It becomes more complicated if you are looking for someone who looks like you, understands your background, has a sense of culture, and is able to meet you with great understanding – 9 times out of 10 you won't find that, because mental health care is 90 percent non-Latino Caucasian."
The concentration in Asian Mental Health joins a growing body of academic programs at the College housed in the College's Center for Multicultural and Global Mental Health (CMGMH). These programs educate practitioners who are from, or plan to work with, historically marginalized groups and underserved communities. Other CMGMH concentrations include African and Caribbean Mental Health, Global Mental Health, and Latino Mental Health. William James College is also home to the Black Mental Health Graduate Academy.
"In the last several years, we've been working very diligently to recruit and support the workforce of the future through our student learning programs," Covino said, thanking the administrators, faculty, and students for their leadership in and commitment to creating, shaping and growing these programs. Students who spoke at the Lunar New Year celebration said that the new concentration had special meaning for them.
"I grew up in an area where people rarely looked like me… basically, I was never in the in-group, but at the same time I didn't feel Asian enough to feel like I was part of that community. I spent a long time in that limbo," said Ellen Yang, a second year PsyD student. "To me, this program means that a significant part of me, of my identity, was seen, and accepted and even celebrated. It means that soon people that look like me can Google 'William James College' and see 'Asian Mental Health,' which is important. For me, the program means recognition, support, belonging – and family."
Asian Mental Health is offered as a concentration in the following academic programs:
The William James College concentration in Asian Mental Health is the first clinical doctoral program in the nation with a specific emphasis on treating Asian individuals, families, and communities. Learn more about the Asian Mental Health concentration here.
Topics/Tags
Follow William James College
Media Contact
Katie O'Hare
Senior Director of Marketing