Managing Mental Health During COVID-19: Advice for Frontline Professionals
By Staff Report
Apr 9, 2020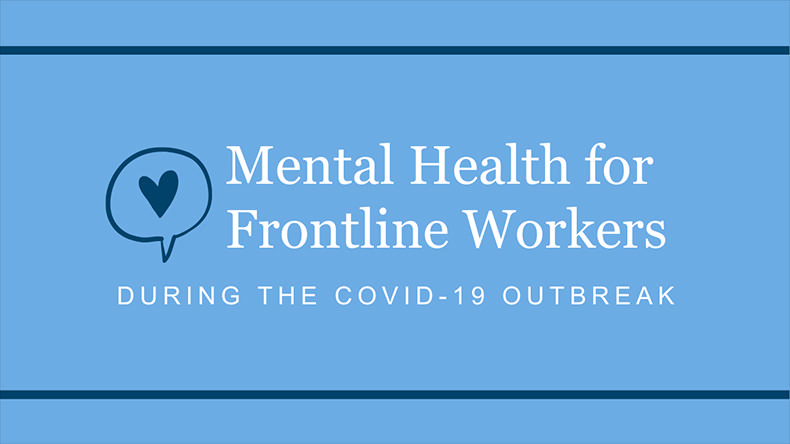 Maintaining mental well-being during the Coronavirus/COVID-19 outbreak can be challenging. William James Faculty offer advice.
Dedicated doctors, nurses, mental health professionals, respiratory therapists, EMTs, police officers, grocery store workers, transit professionals, and others whose work is essential, face unique mental health challenges as the globe responds to COVID-19. Many of these professionals are on the frontlines of the COVID-19 pandemic putting the health, safety and needs of others before their own.
William James College clinical psychology faculty member Dr. Gerald Sweet offered advice for professionals on how to manage feelings of anxiety, stress, burnout, or uncertainty related to being on the frontlines of the COVID-19 outbreak.
Practice Self-Care Strategies
Maintaining mental health through self-care strategies such as yoga, meditation, adequate sleep, good nutrition, exercise and more is common advice, and these tips are even more important when faced with added stress due to managing the COVID-19 situation.
Sweet explained that for medical professionals and other at-risk workers, the "sense of vulnerability around potentially being infected with the virus or passing it on to family members" can have a big impact on mental health. Engaging in these self-care strategies and personal infection precautions can be beneficial as these professionals continue to report to work during this time.
Look to Peers for Support
With many businesses closing or transitioning to remote work, friends and family may not be able to relate to the experiences of those currently working at a hospital or serving the public. In order to maintain mental health, it is important to seek support from those with similar experiences.
"Peer support is hugely important in this time," said Sweet. Staying connected and talking to colleagues at work or friends who are in similar professions can offer mental health benefits.
Accept Limits
Working long hours in stressful situations can overwhelm a person or cause burnout. Sweet explained that, especially for medical professionals, "There's a high level of exhaustion and concern that this is an open-ended situation with no set end date. They're working long hours in very difficult situations, sometimes with inadequate equipment, sometimes without enough protective gear, sometimes without enough staff."
Sweet encouraged these professionals to accept their personal limits as well as the limits of the organization or system in which they work. He said, "You have to accept the reality of how much you can do and the situation you are in. Advocate as much as you can for what you and your co-workers need in terms of staff and equipment, but also remember our resources are stretched to the limit."
Overall, it is important to remember that what you are doing is greatly appreciated by the community.
Seek Professional Support
Finally, when stress, anxiety or burnout become too overwhelming, remember to seek professional support. Many mental health professionals are now providing telemental health services. "Behavioral health professionals are a tremendous resource for medical and healthcare professionals who are providing essential patient care," said Sweet.
---
William James College has created an online Resource Hub to provide information, tools and resources to help parents, educators, mental health professionals and other members of the community on a variety of topics during this time.
For First Responders, the CDC website offers advice for managing stress and anxiety, including secondary traumatic stress, and tips for taking care of yourself during emergency response. SAMHSA also offers a tip sheet, Tips for Disaster Responders: Preventing and Managing Stress.
Topics/Tags
Follow William James College
Media Contact
Katie O'Hare
Senior Director of Marketing