Class Creates Community Poem Exploring 'Resilience in a Pandemic"
By Staff Report
May 6, 2020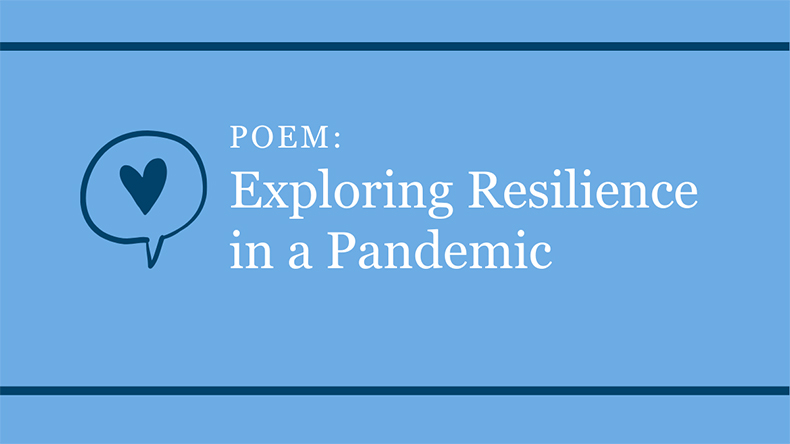 A community poem created by students in Dr. Natalie Cort's "Diversity and Cross-Cultural Psychology" course explores the topic of resilience during this pandemic.
"I've been using expressive arts and meditation at the beginning of my classes to ground students," said Cort. "Each student contributed one phrase reflecting their current perspective, feelings, or wishes. The magic of this activity is the way in which disparate thoughts from different individuals meld into a coherent and collective narrative."
Thirteen students—Thomas Bell, Laura Cohen, Laura Corbige, Judith Nicole Dayaw, Gabriela Gonzalez, David Klapatch, Sarah Kosa, Allison Lawsky, Sarah Miller, Jehovanie Robert, Mollie Stolzer, Victoria Stout, and Lily Walsh—contributed to the project.
Here is the poem in its entirety:
Resilience in a Pandemic: 2020 Community Poem
Taking each moment one breath at a time,
One day at a time
My resilience has surprised me
As I'm getting comfortable with living with uncertainty
I underestimated the things I took for granted
And I crave control of the things I can't control
But I'm trying to exercise forgiveness like a muscle and its slowly getting stronger
I have everything I need within me
To get through moment by moment
And I warmly embrace the quiet as if it were a friend
Often when you think you're at the end of something you're at the beginning of something else
We are at a distance but closer than ever
We feel gratitude and despair in the same breath
—We are strong, but we need each other
Your faith gives me strength
Strength to believe
So, think happy, be happy.
Topics/Tags
Follow William James College
Media Contact
Katie O'Hare
Senior Director of Marketing