William James College Celebrates School Psychology Awareness Week 2019
By Staff Report
Nov 13, 2019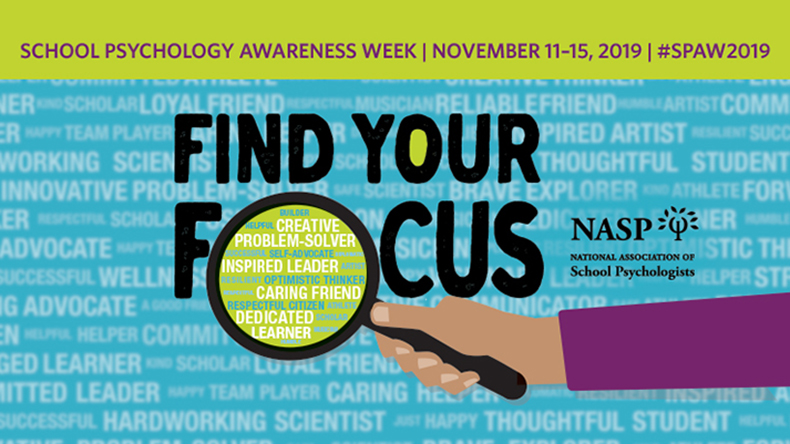 This year, School Psychology Awareness Week (SPAW) is taking place November 11-15, 2019. The annual event, which is sponsored by the National Association of School Psychologists, draws awareness to the field of school psychology and opportunities available through the profession.
Dr. Miriam Thompson, assistant professor in the School Psychology Department and faculty sponsor for SPAW activities on campus called the week "an exciting way to unite school psychologists in educating the public about the multifaceted aspects of the profession." She added, "It is my hope that SPAW enhances the public's understanding about the field and that it encourages those to enter the profession."
SPAW has a different theme each year. According to the NASP website, this year's theme, "Find Your Focus," can have a variety of meanings such as paying attention, being able to see an idea more clearly, identifying an area of interest, or being persistent and determined in one's effort. William James College student organizers are focusing on specific populations encountered by school psychologists.
Thompson said this year's theme, for her, "signifies identifying and pursuing a task, an issue, or an activity that is meaningful" and calls on students to "find what you're good at and then decide to become excellent at it!"
When asked about something she thinks everyone should know about the role of School Psychologists, Dr. Thompson said, "School psychologists are dynamic, underrated, talented, and multifaceted. We are good at what we do, and we know how to do it. If you need a problem solved, ask a school psychologist to do it!"
Paige Laich, a student in the School Psychology program and one of the SPAW week organizers for the College, said, "as a graduate student, William James College offers a variety of wonderful experiences throughout the school psychology training. I'm so grateful to all the people who make this program possible."
Laich and student Regina Banks are leading this year's SPAW initiatives for the College.
Learn more about School Psychology Awareness Week, and find downloadable materials, on the NASP website.
Topics/Tags
Follow William James College
Media Contact
Katie O'Hare
Senior Director of Marketing