Sew Supportive: Individuals, Organizations, Make Homemade Masks for WJC Students
By Staff Report
May 22, 2020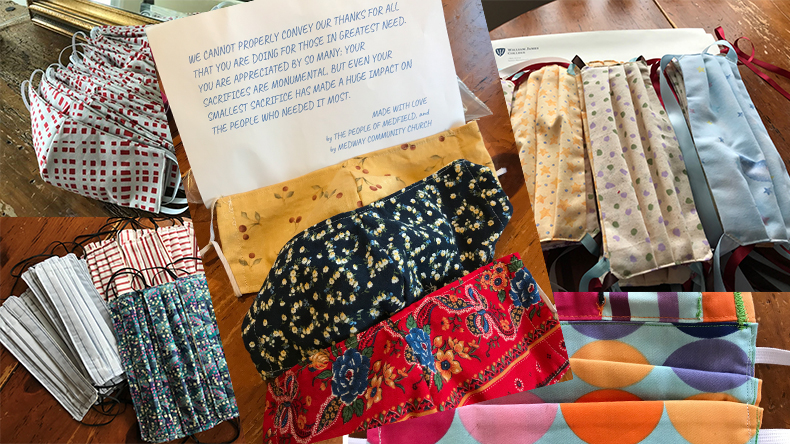 Many William James College faculty and students are counted among the behavioral health professionals who are providing essential services during this pandemic. In early April, Cheryl MacDonald, assistant director of Field Education, was looking for more ways to support these frontline workers.
"What better way than to provide them with home-made masks," MacDonald said. "Unfortunately, I don't have a sewing machine—and it would be dangerous if I did—but I was happy to coordinate efforts to collect materials, organize volunteers and distribute the masks."
The effort quickly took off and hundreds of donations poured in from individuals, community groups, and companies wishing to show their support. The project received so many donations that MacDonald was able to expand the giving and make masks available to alumni, and organizations they serve, and to field sites. Of course, masks are still going to students as well.
"I have distributed masks to students all over the country – several on APA internships and many that …said they needed them for family members who were still working as essential workers," MacDonald said. Thanks to the community generosity, she added, "I have not had to turn anyone away."
A note accompanying a donation from the People of Medfield and Medway Community Church read, in part, "We cannot properly convey our thanks for all that you are doing for those in greatest need… even your smallest sacrifice has made a huge impact on the people who needed it most." It was signed, "made with love."
A special thanks to: Ramaa Rao, MD.; Sew We Care; Wayland Sewing Support; The People of Medfield and Medway Community Church; Linda Taveira Da Silva; Pepper Home in Wellesley; WJC Alumna Tatiana Goorha; Janice Tuckman, LICSW; Donna Splaine; and the Hon. Christina Harms.
Topics/Tags
Follow William James College
Media Contact
Katie O'Hare
Senior Director of Marketing